2020-2021 Academic Year and Summer 2021 Events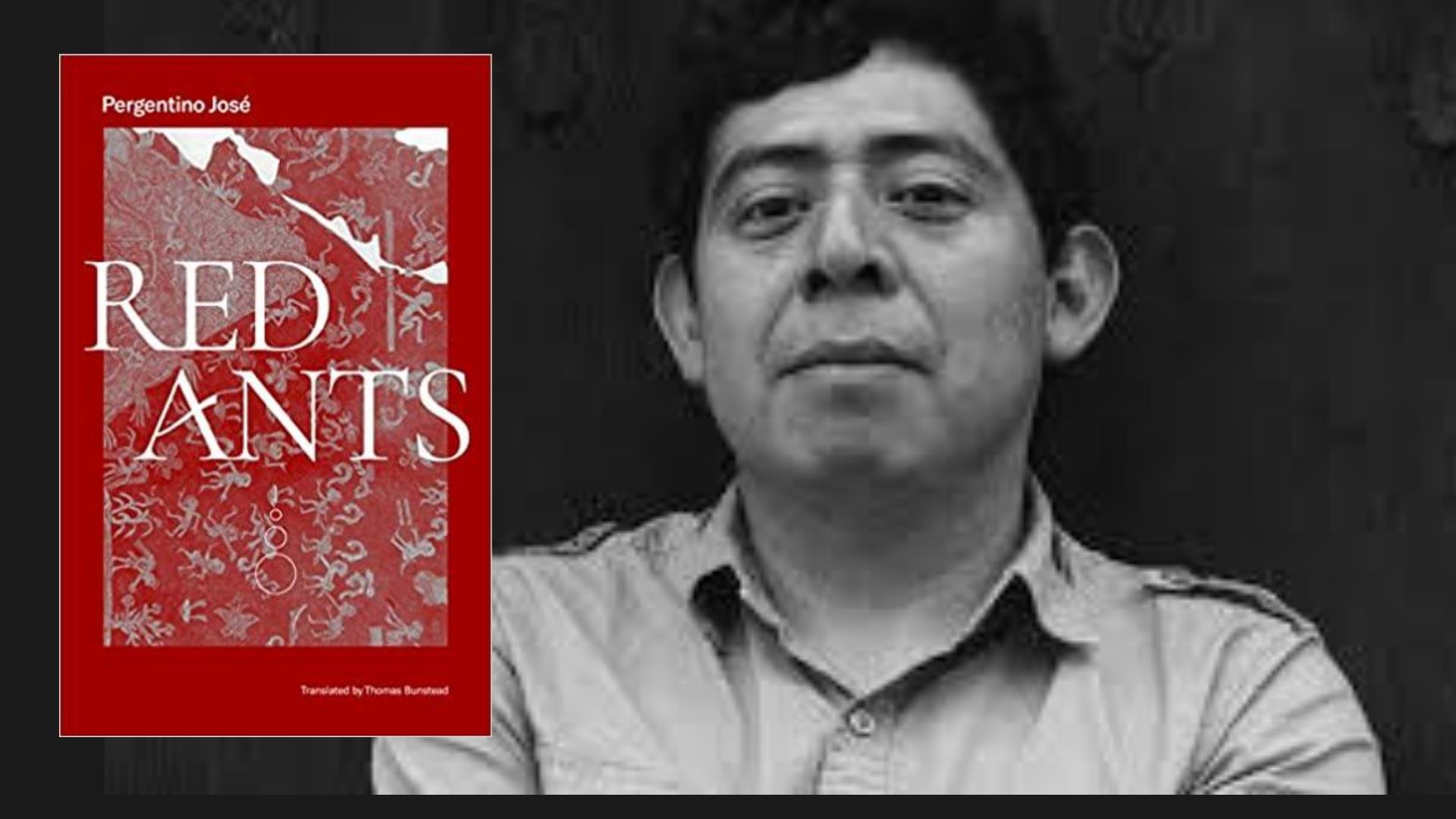 Red Ants with Pergentino José
In September, Pergentino José gave a reading followed by a Q&A. A literary triumph by a member of the Mexico20 (the list that boasts Valeria Luiselli and Carlos Velasquez, among others), Red Ants is the first-ever literary translation from the Sierra Zapotec. This vibrant collection of short stories by one of Mexico's most promising young authors updates magical realism for the 21st century. Red Ants paints a candid picture of indigenous Mexican life—an essential counterpoint to cultural products of the colonial gaze. José's fantastical stories tackle themes of family, love, and independence in his signature style: unapologetically personal, coolly emotional, and always surprising.
---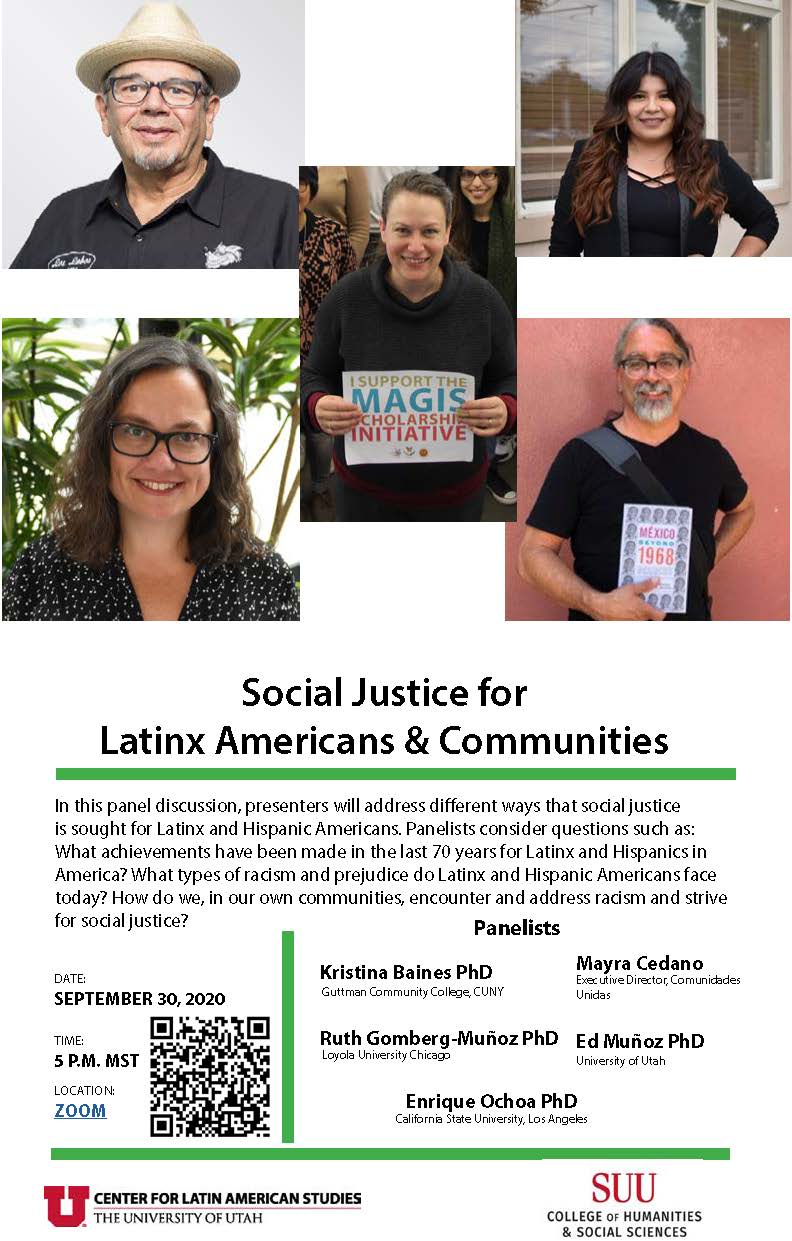 Social Justice for Latinx Americans and Communities
In this panel discussion, presenters will address different ways that social justice is sought for Latinx and Hispanic Americans. Panelists consider questions such as: What achievements have been made in the last 70 years for Latinx and Hispanics in America? What types of racism and prejudice do Latinx and Hispanic Americans face today? How do we, in our own communities, encounter and address racism and strive for social justice?
Panelists:
Kristina Baines PhD, Guttman Community College, CUNY
Mayra Cedano, Executive Director, Comunidades Unidas
Ruth Gomberg-Muñoz PhD, Loyola University Chicago
Ed Muñoz PhD, University of Utah
Enrique Ochoa PhD, California State University, Los Angeles
---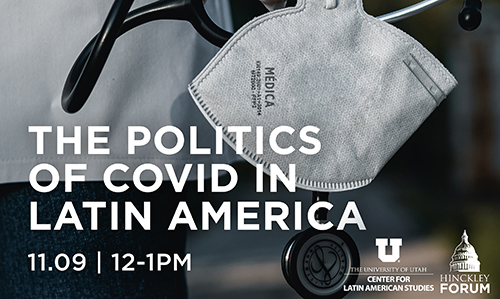 The Politics of Covid in Latin America
Latin American countries have been among the hardest hit by the COVID-19 pandemic, with the impacts exacerbated by weak social protection, decaying health-care systems, and profound socioeconomic inequalities. The economic consequences are also dire, with the region facing its worst recession in a century, pushing the number of people living in poverty up by 45 million. This panel will examine government responses to the pandemic in Brazil, Colombia, Mexico and Venezuela, and explore the long-term political implications for the region.
Claudio Holzner, Director, Center for Latin American Studies and Associate Professor of Political Science at University of Utah

David De Micheli, Ph.D., Assistant Professor of Political Science and Division of Ethnic Studies at University of Utah

Laura Gamboa, Assistant Professor of Political Science at University of Utah

Caitlin Andrews-Lee, Assistant Professor in the Department of Politics and Public Administration at Ryerson University
---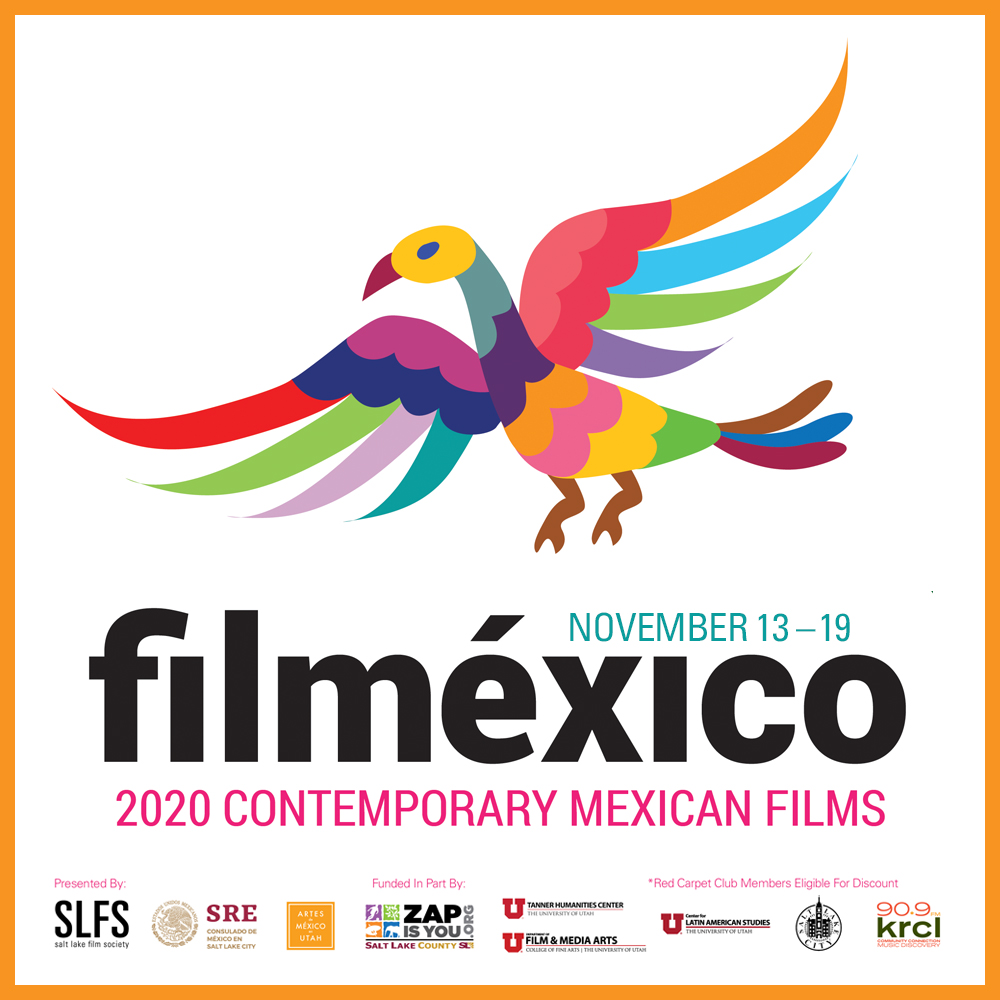 Filméxico Screening: Identifying Features (Sin Señales Particulares)
Filméxico, Salt Lake Film Society's annual celebration of contemporary Mexican cinema, took place virtually this year, November 13 through 19! Three feature films and a short program were available to view from home. On opening night, Identifying Features, a Sundance 2020 film was shown. Guests were also given access to a pre-recorded discussion with the filmmakers moderated by CLAS director, Claudio Holzner.
Film Synopsis: Middle-aged Magdalena has lost contact with her son after he took off with a friend from their town of Guanajuato to cross the border into the US, hopeful to find work. Desperate to find out what happened to him, she embarks on an increasingly dangerous journey to discover the truth.
---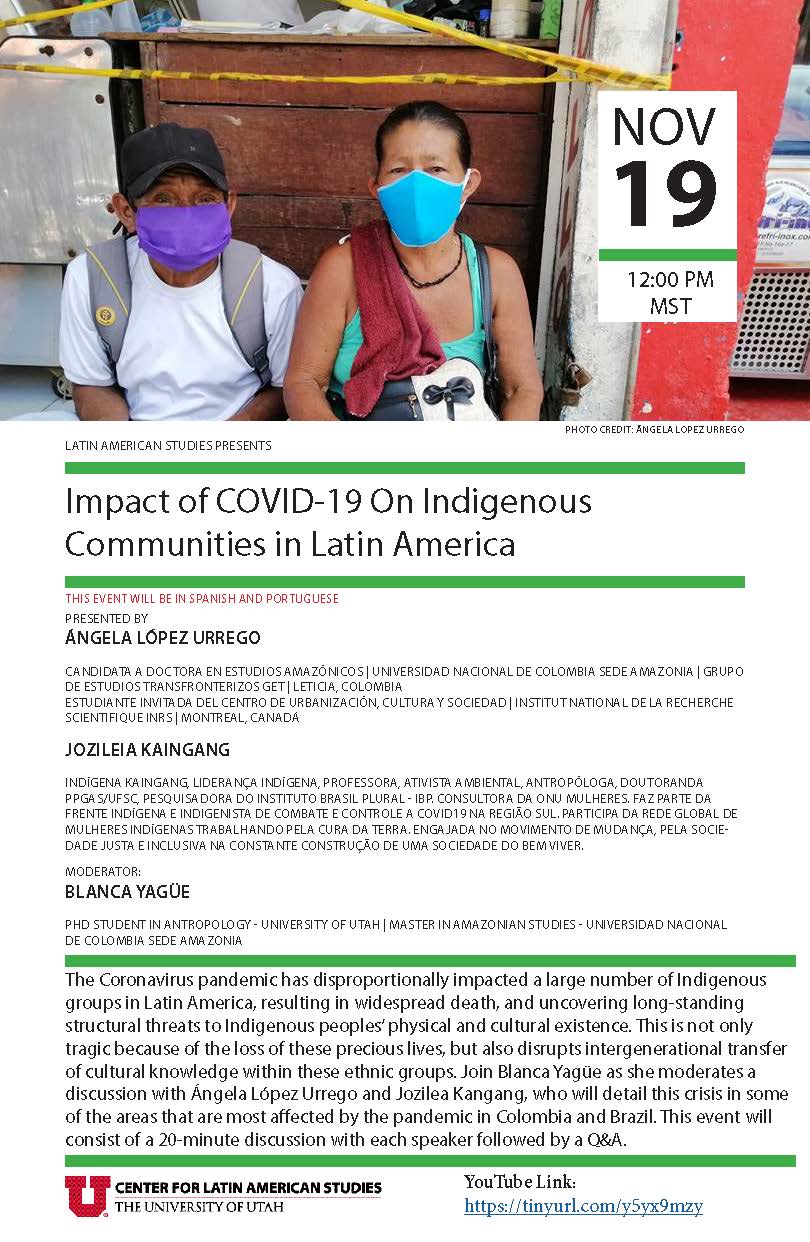 Impacts of Covid on Indigenous Communities in Latin America
The Coronavirus pandemic has disproportionally impacted a large number of Indigenous groups in Latin America, resulting in widespread death, and uncovering long-standing structural threats to Indigenous peoples' physical and cultural existence. This is not only tragic because of the loss of these precious lives, but also disrupts intergenerational transfer of cultural knowledge within these ethnic groups. Join Blanca Yagüe as she moderates a discussion with Ángela López Urrego and Jozilea Kangang, who will detail this crisis in some of the areas that are most affected by the pandemic in Colombia and Brazil. This event will consist of a 20-minute discussion with each speaker followed by a Q&A.
Panelists:
Ángela López Urrego
Candidata a Doctora en Estudios Amazónicos | Universidad Nacional de Colombia sede Amazonia | Grupo de Estudios Transfronterizos GET | Leticia, Colombia Estudiante invitada del Centro de Urbanización, Cultura y Sociedad | Institut National de la Recherche Scientifique INRS | Montreal, Canadá
Joziléia Kaingang
Indígena Kaingang, liderança Indígena, professora, ativista ambiental, antropóloga, Doutoranda Ppgas/Ufsc | Pesquisadora do Instituto Brasil Plural – Ibp | Consultora da ONU Mulheres | Parte da Frente Indígena e Indigenista de Combate e Controle a Covid19 Na Região Sul | Participa da Rede Global de Mulheres Indígenas Trabalhando pela Cura da Terra | Engajada no movimento de mudança, pela sociedade justa e inclusiva na constante construção de uma sociedade do Bem Viver
Moderator:
Blanca Yagüe
Phd Student In Antropology - University Of Utah | Master in Amazonian Studies - Universidad Nacional De Colombia Sede Amazonia
---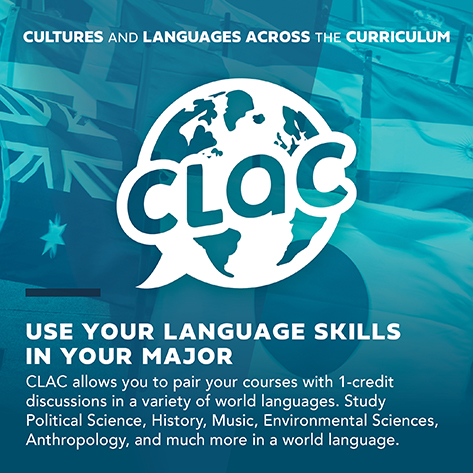 Cultures and Languages Across the Curriculum Info Sessions
Join us for an info session to learn more about what CLAC is, how to find and register using CLAC attribute, what classes are being offered in the Spring, and what the student experience and advantages are in taking a CLAC section. Our CLAC coordinator will be able to answer any questions you may have.
CLAC allows you to pair your courses with 1-credit discussions in a variety of world languages. Study Political Science, History, Music, Environmental Sciences, Anthropology, and much more in a world of languages.
LEARN MORE ABOUT CLAC AND COURSES OFFERED
---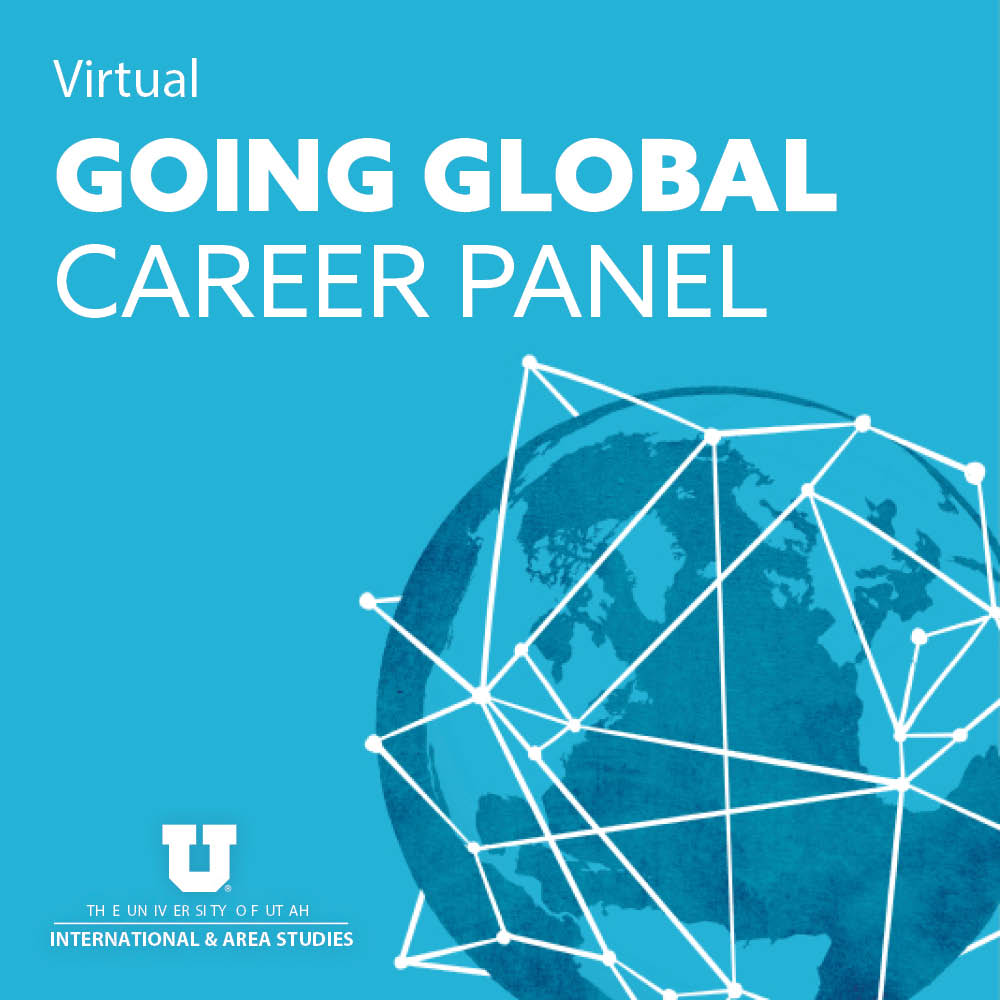 Virtual Going Global Career Panel
This year Going Global has gone virtual! We have a great group of panelists and networkers that have exerience in many different fields Health, Government, Tourism, Law, and Business.
MEET OUR PANELISTS AND NETWORKERS
---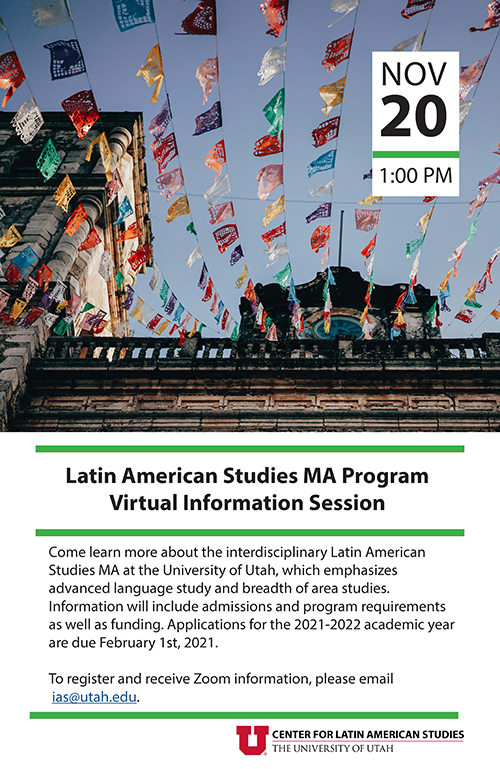 Latin American Studies MA Program Virtual Information Session
Come learn more about the interdisciplinary Latin American Studies MA at the University of Utah, which emphasizes advanced language study and breadth of area studies. Information will include admissions and program requirements as well as funding.
LEARN MORE ABOUT OUR MA PROGRAM
---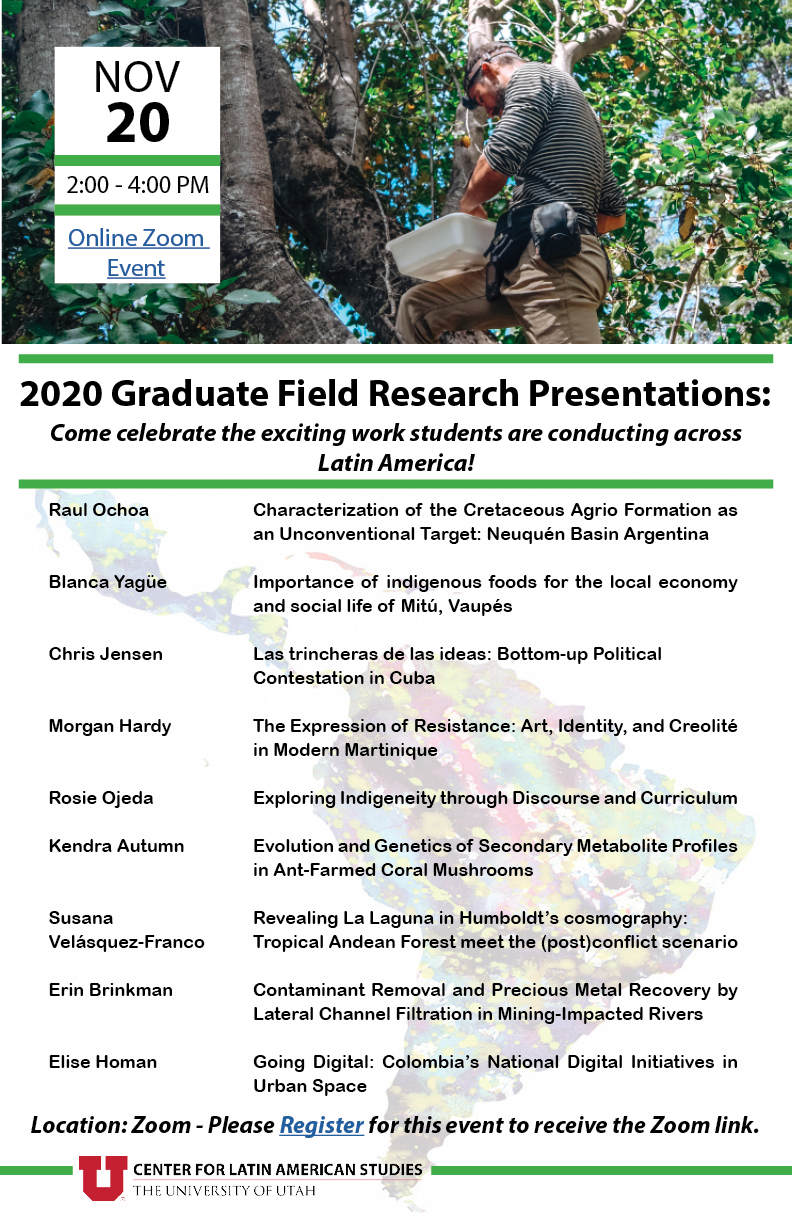 2020 Graduate Field Research Presentations: Come celebrate the exciting work students are conducting across Latin America!
The Center for Latin American Studies (CLAS) would like to invite you to virtually attend and celebrate the exciting research experiences that U graduate students are conducting across Latin America! On November 20th from 2-4 PM students will share their experiences living and conducting research in Latin America, their research plans and findings, and career plans moving forward. From indigenous food and digital communications in Colombia, to Cuban Politics, to geology and geophysics in Ecuador you're sure to find something you'll love!
---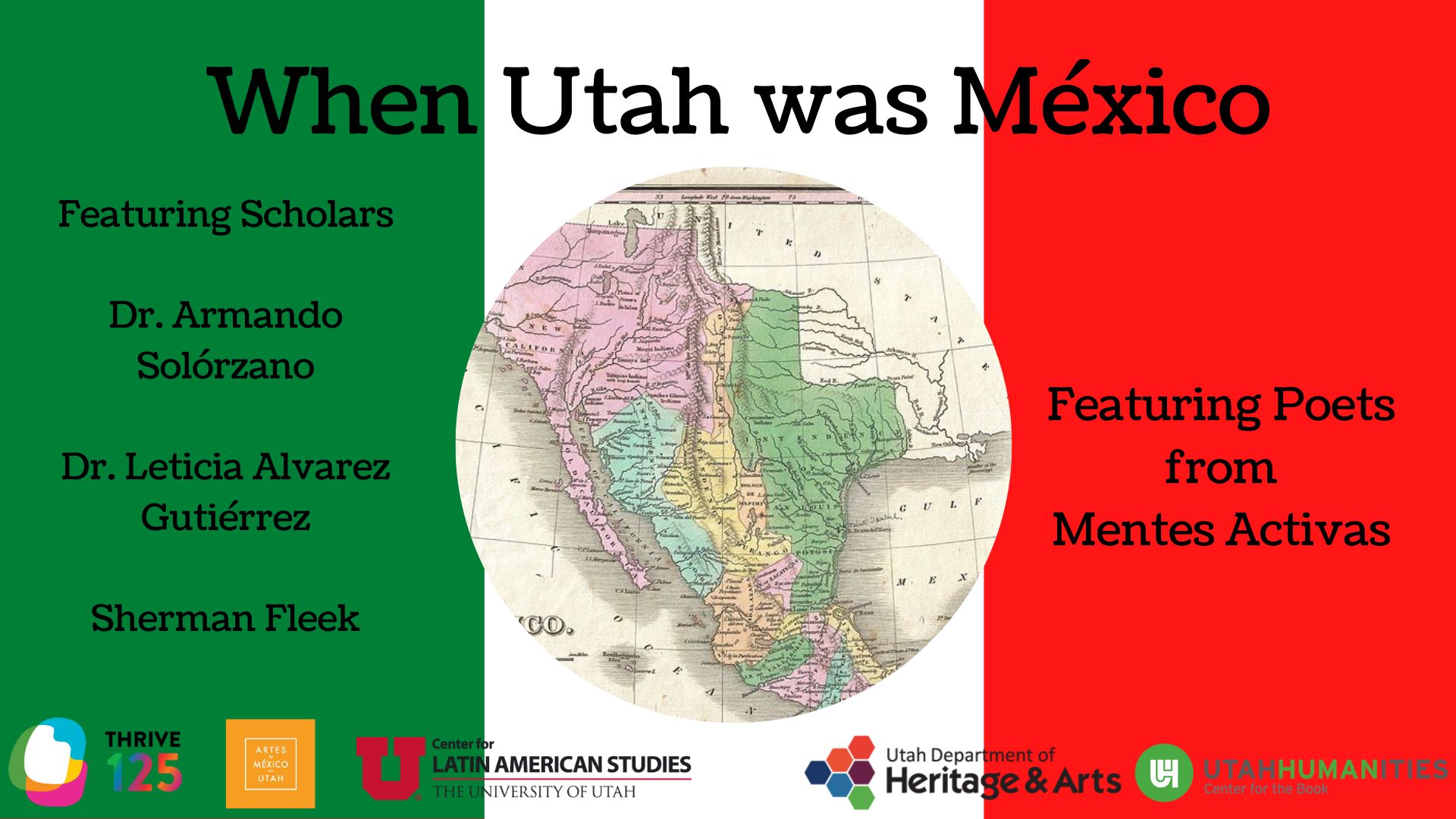 Thrive 125: When Utah was Mexico
The Center for Latin American Studies at the University of Utah and Artes de México en Utah are excited to present Thrive 125: When Utah was Mexico. For educators and beyond, this program will tackle the history of Utah before statehood, when it was Mexican territory, focusing on the significance of this history and what it means to Utah today. We are pleased to welcome Dr. Armando Solorzano and Sherman Fleek to the conversation, and poets from Mentes Activas Utah to introduce the event.
---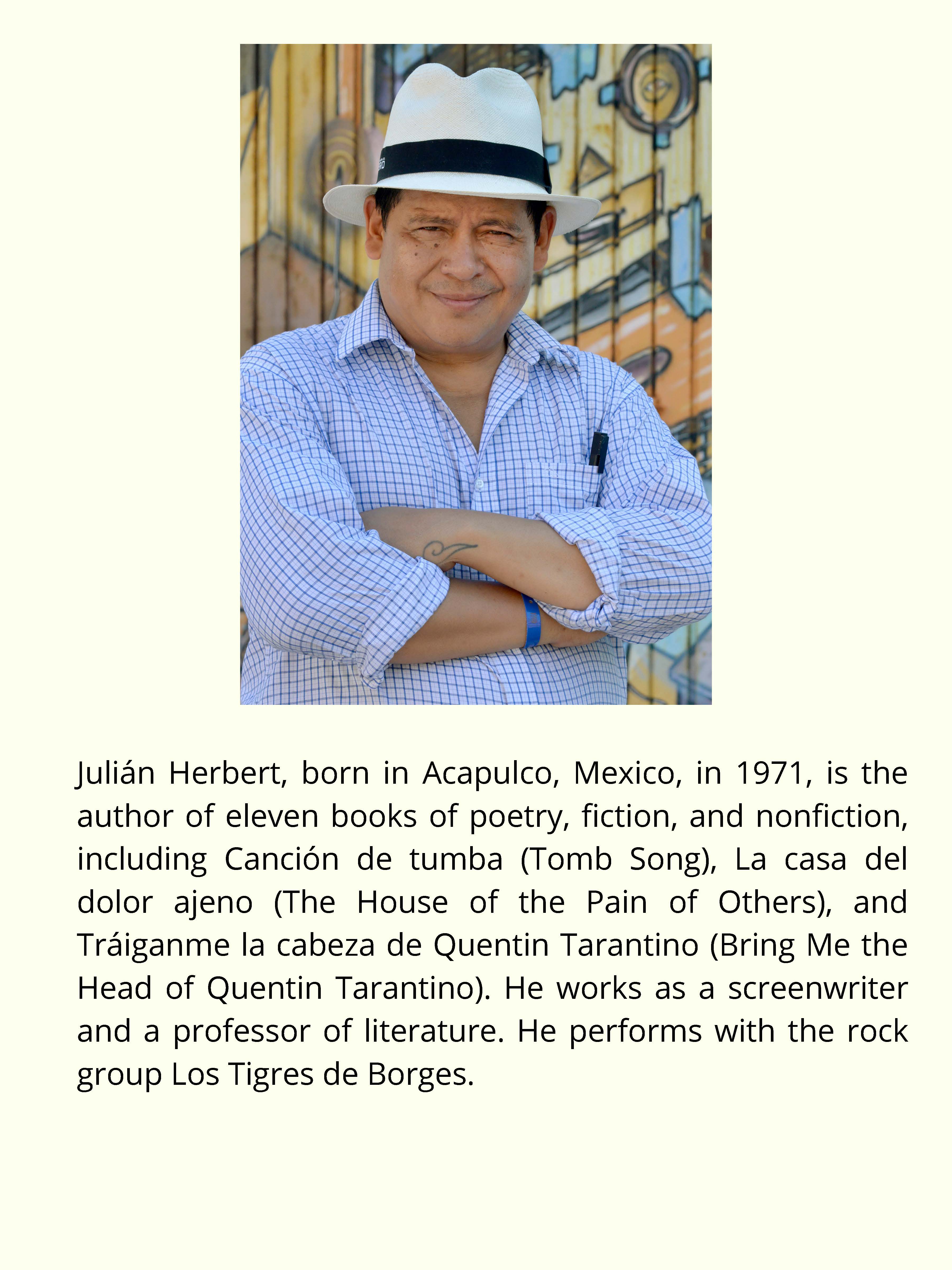 Julián Herbert: "Una tarde de literatura" Student Event
A short discussion with Julián Herbert about his journey and literature.
---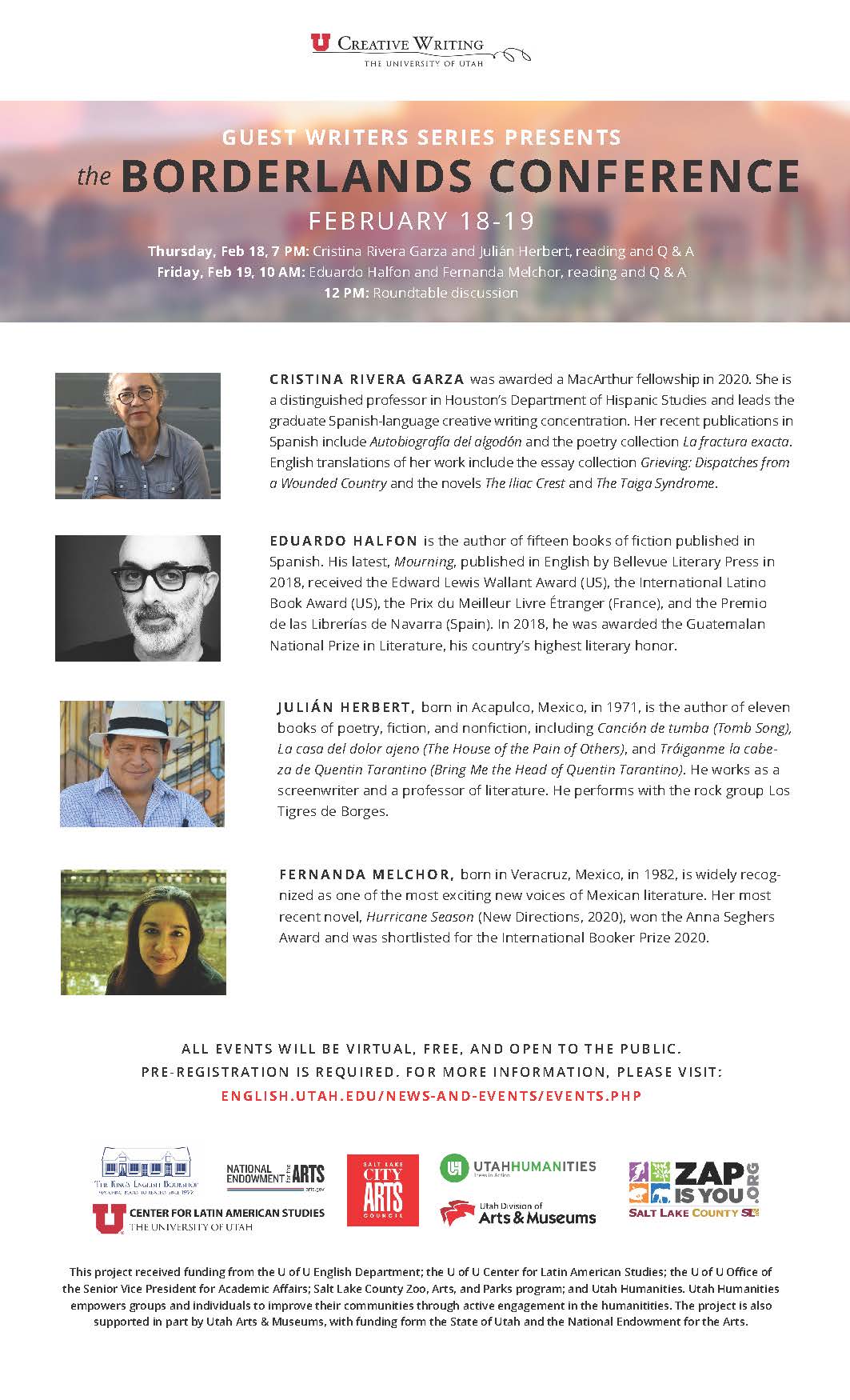 Borderlands Conference
Each year, the Guest Writers Series at the University of Utah brings distinguished authors to Salt Lake City. Our goal is to provide our community with an opportunity to engage in a dynamic, educational and inspiring relationship with literature. We aim to bring in a diverse array of voices and perspectives, and to provide a platform for an enriching dialogue between our authors and the audience.
Cristina Rivera Garza
Cristina Rivera Garza received a BA (1987) from the National Autonomous University of Mexico and PhD (1995) from the University of Houston. She was affiliated with San Diego State University (1997–2004), ITESM-Campus Toluca (2004–2008), and the University of California at San Diego (2008–2015) prior to joining the faculty of the University of Houston in 2016, where she is a distinguished professor in the Department of Hispanic Studies and leads the graduate Spanish-language creative writing concentration. Her recent publications in Spanish include Autobiografía del algodón (2020), the poetry collection La fractura exacta (2020), and the audiobook Ciudad XY (2020), and additional works translated into English include the essay collections The Restless Dead: Necrowriting and Disappropriation (2013/2020), Grieving: Dispatches from a Wounded Country (2011/2020), and La Castañeda Insane Asylum: Narratives of Pain in Modern Mexico (2010/2020).
Julián Herbert
Julián Herbert was born in Acapulco in 1971. He is a writer, musician, and teacher, and is the author of The House of the Pain of Others and Tomb Song, as well as several volumes of poetry and two story collections. He lives in Saltillo, Mexico.\
Fernanda Melchor
Born in Veracruz, Mexico, in 1982, Fernanda Melchor is widely recognized as one of the most exciting new voices of Mexican literature. Her novel Hurricane Season and collection This Is Not Miami are both forthcoming from New Directions.
Eduardo Halfon
Eduardo Halfon was born in Guatemala City, moved to the United States at the age of ten, went to school in South Florida, studied industrial engineering at North Carolina State University, and then returned to Guatemala to teach literature for eight years at Universidad Francisco Marroquín. Named one of the best young Latin American writers by the Hay Festival of Bogotá, he is also the recipient of a Guggenheim Fellowship, Roger Caillois Prize, José María de Pereda Prize for the Short Novel, and Guatemalan National Prize in Literature. He is the author of fourteen books published in Spanish and three novels published in English: Mourning, winner of the International Latino Book Award and Edward Lewis Wallant Award, finalist for the Kirkus Prize, Neustadt International Prize, and Balcones Fiction Prize, and longlisted for the PEN Translation Prize; Monastery, longlisted for the Best Translated Book Award; and The Polish Boxer, a New York Times Editors' Choice selection. Halfon currently lives in Nebraska, frequently travels to Guatemala, taught creative writing at the University of Iowa, and recently received a fellowship from Columbia University to write his next book in Paris.
---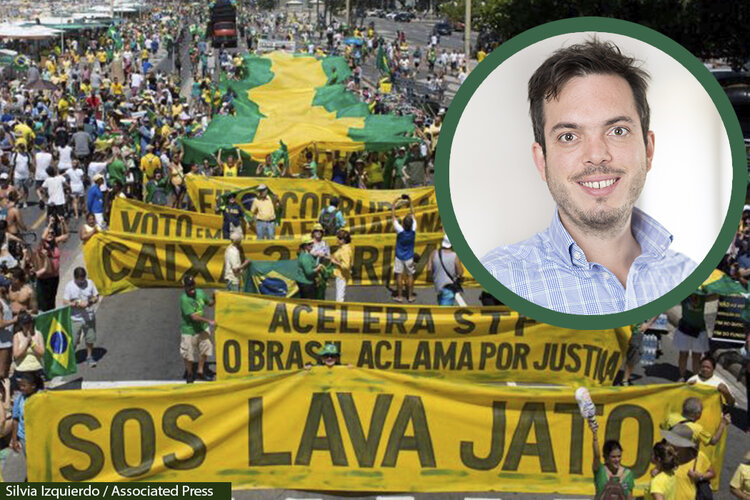 Hinckley Forum: The Criminalization of Corruption in Latin America
Ezequiel González-Ocantos, Associate Professor in the Department of Politics and International Relations, University of Oxford; Professional Fellow, Nuffield College
Operation Lava Jato started in Brazil as a money-laundering case. It quickly turned into a full-blown judicial anti-corruption crusade with far-reaching political implications across Latin America because the same companies at the heart of the Brazilian scandal offered kickbacks to public officials in at least 8 other countries. Critics see the prosecutorial zeal behind some of the national chapters of Lava Jatoas yet another instance of "lawfare." For others, however, it anticipates a new era of accountability and political regeneration. In this talk I discuss a current book project, which asks two sets of questions. First, what explains why the investigation gained momentum and delivered results in some countries but not others? The answer looks at the legacy of capacity-enhancing reforms in Latin America's prosecution services as well more immediate determinants of prosecutorial zeal and effectiveness. Second, the book relies on focus groups and original surveys to understand the impact of Lava Jato on public opinion. What kind of emotions and attitudes towards corruption and politics do voters experience when exposed to these shocks? Does LavaJato reinforce or curb political cynicism? Are all Lava Jato's created equal, or does the way in which different investigations unfold shape emotional and attitudinal responses?
---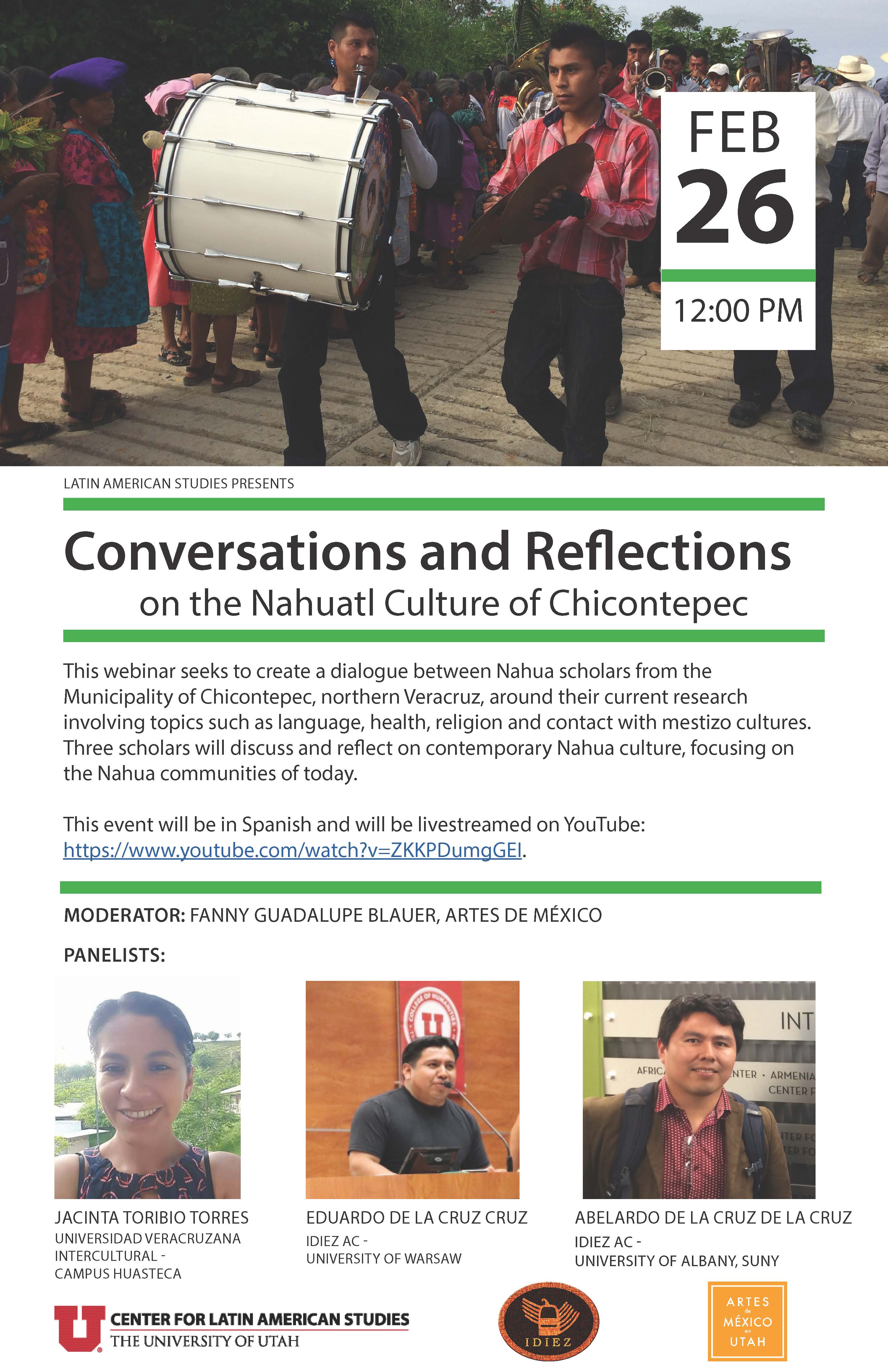 Conversations and Reflections on the Nahuatl Culture of Chicontepec
This webinar seeks to create a dialogue between Nahua scholars from the Municipality of Chicontepec, northern Veracruz, around their current research involving topics such as language, health, religion and contact with mestizo cultures. Scholars will talk and reflect on contemporary Nahua culture, focusing on the Nahua communities of the Municipality of Chicontepec.
Moderator:
Fanny Guadalupe Blauer, Artes de Mexico en Utah
Presenters:
Abelardo de la Cruz de la Cruz, Associate Instructor, World Languages and Cultures, University of Utah
Eduardo de la Cruz Cruz, Director de IDIEZ and Estudiante de doctorado en la Universidad de Varsovia
PhD. Jacinta Toribio Torres, Universidad Veracruzana Intercultural, Campus Huasteca
Watch Here Learn More About the Topics Discussed Here
---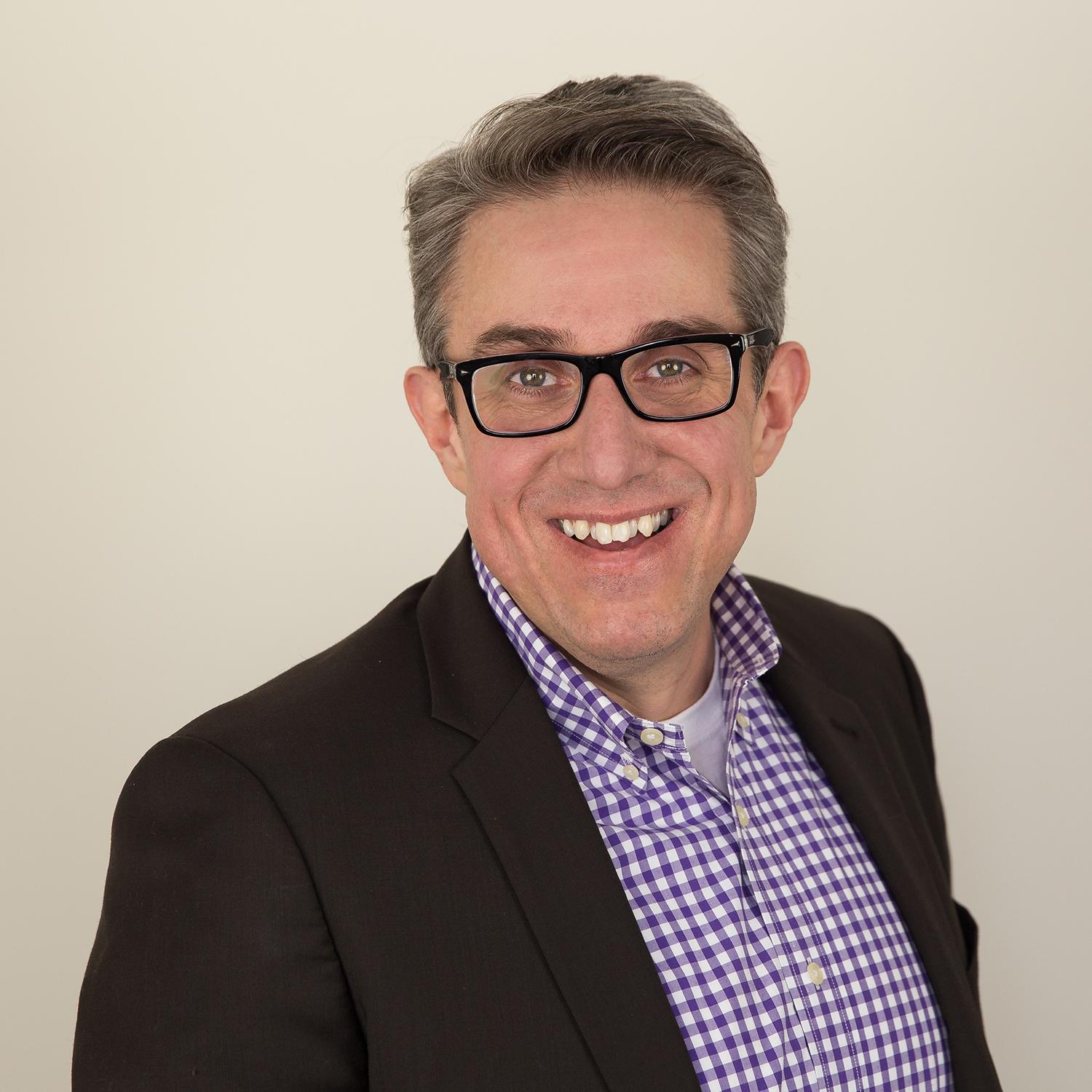 A Conversation about the US Latinx Theatre & Performance in the Time of COVID-19
How have Latina/o/x theatre- and performance-makers responded to the constellation of crises of the last year? Did the Spring 2020 wave of cancellations, closures and postponements impact Latina/o/x artists in any particular ways? How have Latina/o/x theatre-makers engaged the broad reckonings around anti-Blackness, white supremacism, and racial injustice that gained prominence in the last year? What kinds of performances have Latinx artists made during this "unprecedented" historical moment? And why do the best Latinx shows on TV keep getting canceled? Join award-winning performance historian Brian Eugenio Herrera to engage these and other questions in a lively, interactive discussion. Profe Herrera will invite questions from our virtual audience members to guide a collaborative conversation about the state of US Latinx theatre and performance today.
---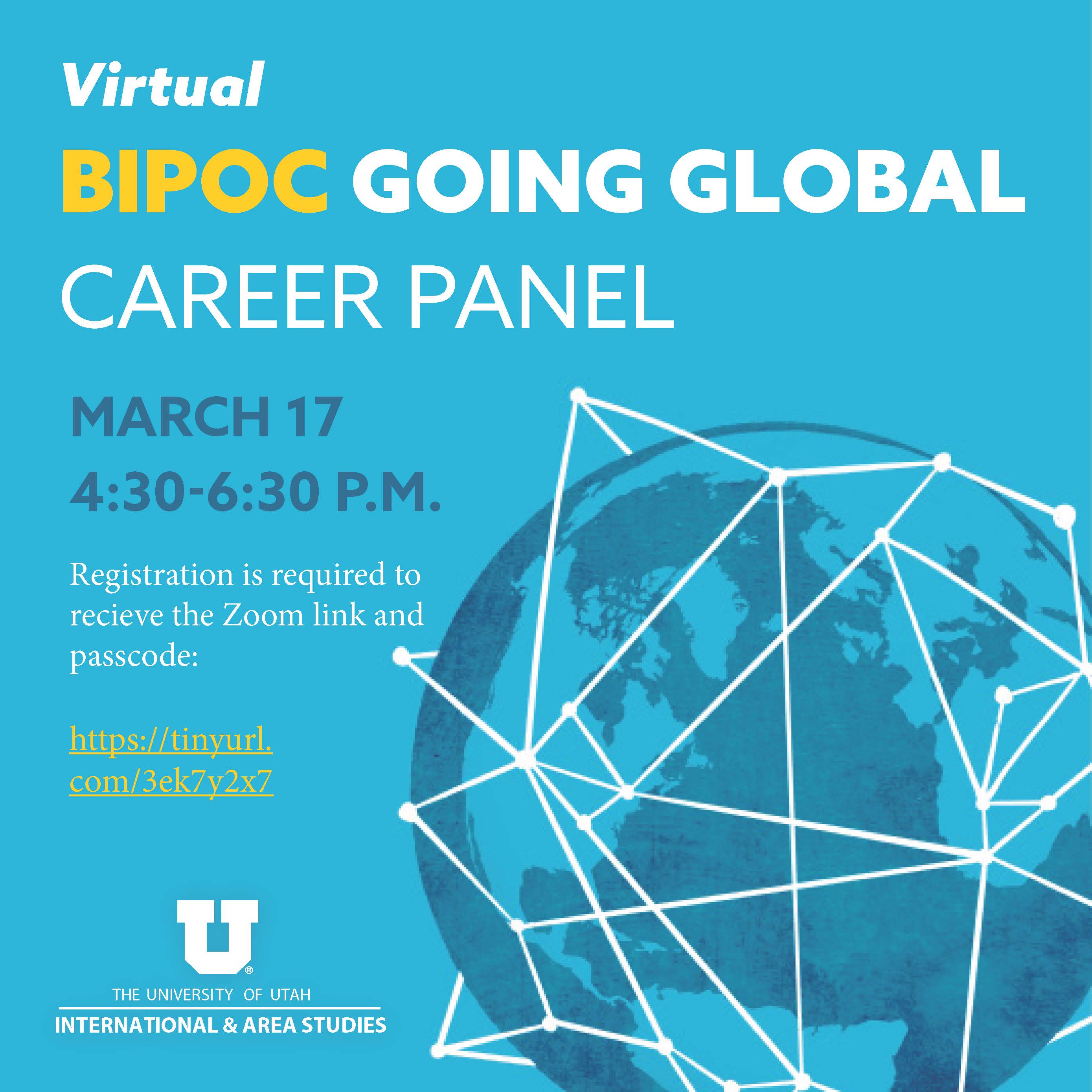 BIPOC Going Global Career Panel
Each year, we coordinate this event for our International & Area Studies' students in conjunction with the Career and Professional Development Center at the University of Utah, and this year we want to highlight the global careers and international experiences and language skills of BIPOC individuals and how those skills and experiences have benefitted them in the workplace.
MEET OUR PANELISTS AND NETWORKERS
---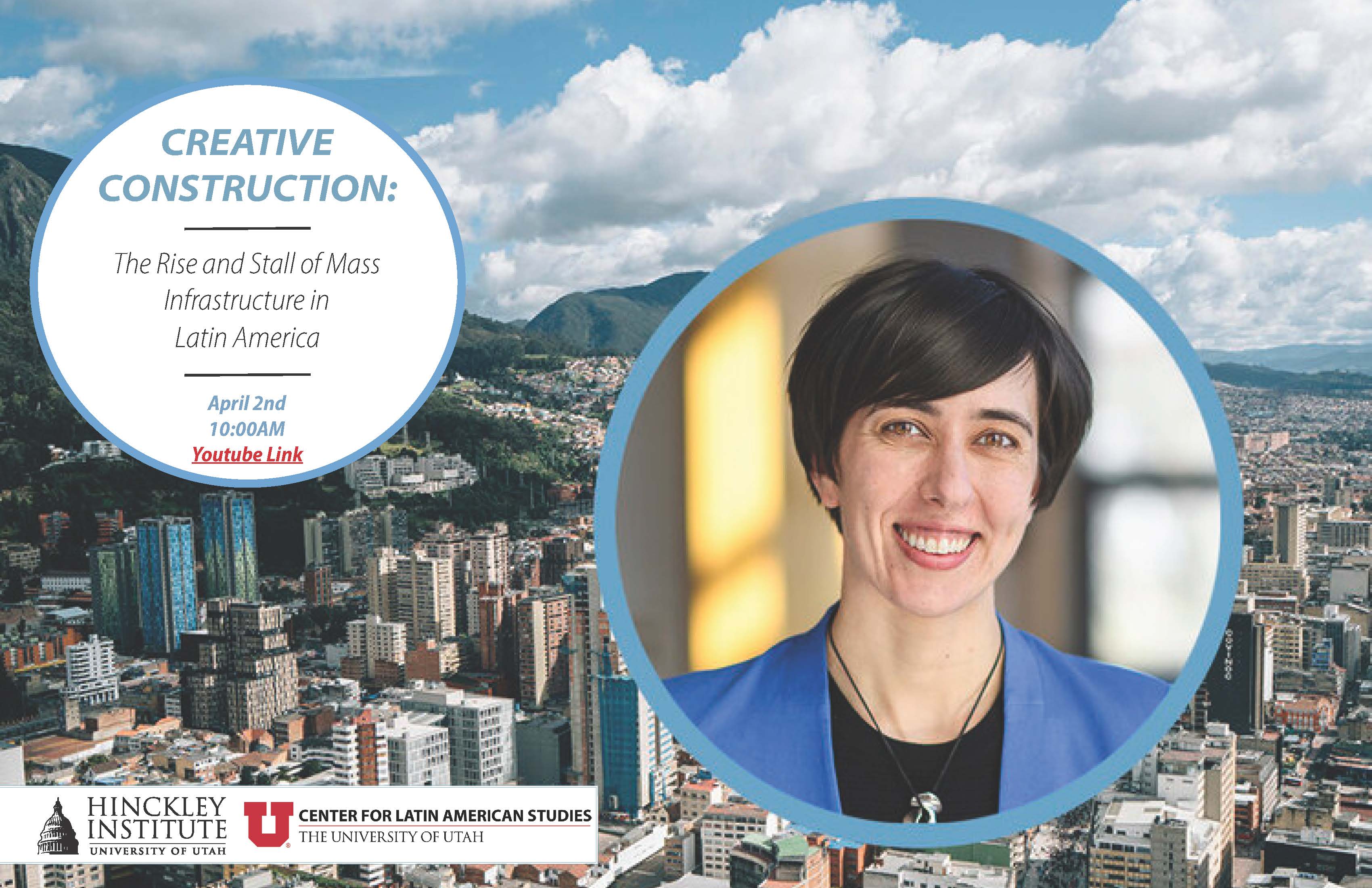 Creative Construction: The Rise and Stall of Mass Infrastructure in Latin America
Since 1990, spending on large infrastructure projects has increased across Latin America. This trend is puzzling because it comes at a time of democratization and decentralization thought to hinder investment in long-run and spatially concentrated projects. This talk explains the over-time growth in investment by highlighting the financialization of infrastructure. Private sector involvement in infrastructure projects created a fiscal illusion in which the costs of infrastructure accrued off government balance sheets. Politicians shifted the extremely high costs on to future governments. Private sector financing also resulted in an arena shift in which legislatures were cut out of budget decisions made primarily within finance ministries. Presidents allocated or renegotiated infrastructure contracts to finance their campaigns, and only had to overcome constraints from the administrative state. Qualitative evidence from Peru, Colombia, and Ecuador shows how changes in the model of building infrastructure help to explain the increase in level and project size over time, whereas campaign finance needs and bureaucratic hurdles shape individual country trajectories.
Alisha Holland, Associate Professor, Harvard University Government Department
---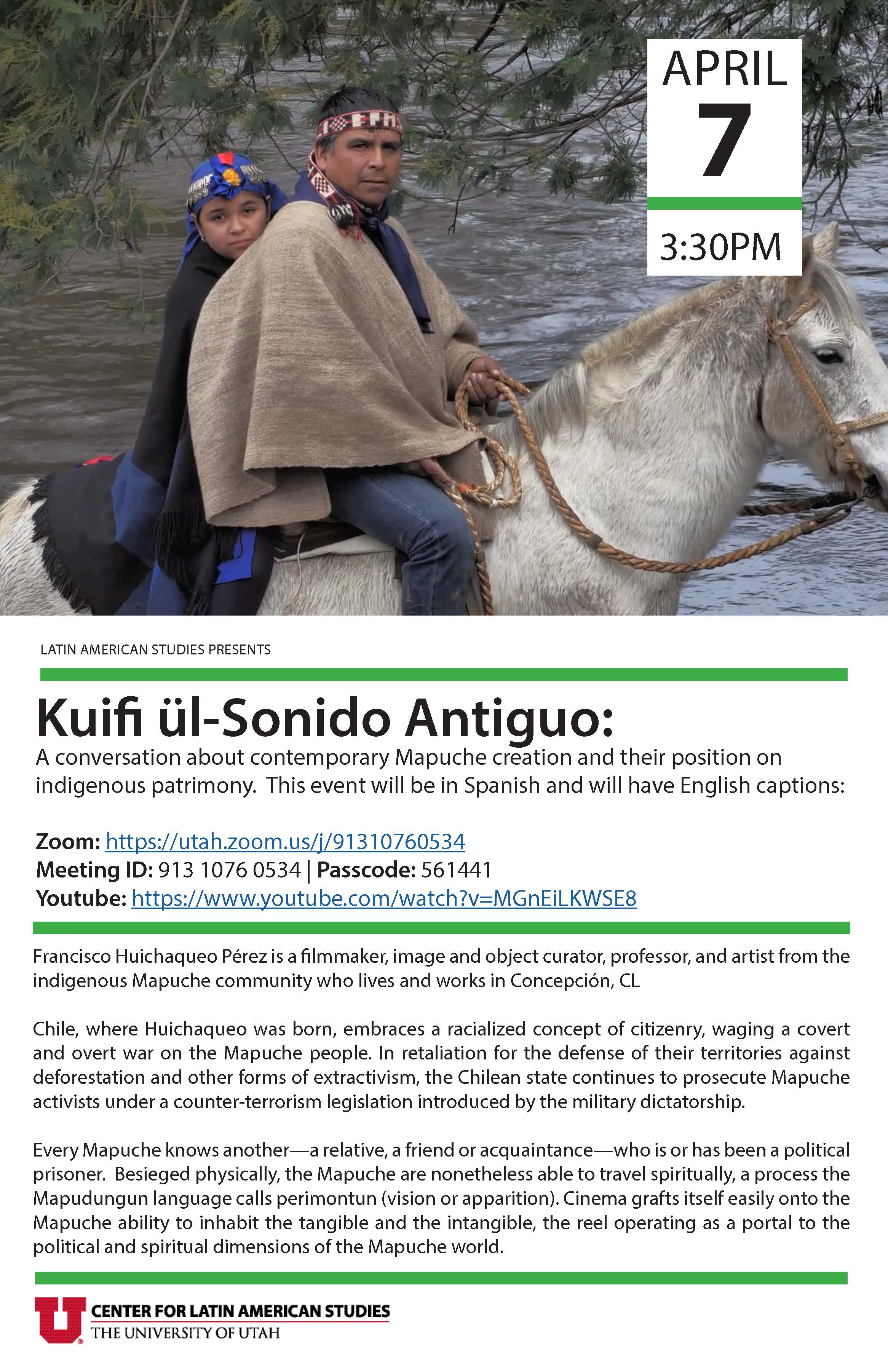 Kuifi ül-Sonido Antiguo: A conversation about contemporary Mapuche creation and their position on indigenous patrimony
Francisco Huichaqueo Pérez is a filmmaker, image and object curator, professor, and artist from the indigenous Mapuche community who lives and works in Concepción, CL
Chile, where Huichaqueo was born, embraces a racialized concept of citizenry, waging a covert and overt war on the Mapuche people. In retaliation for the defense of their territories against deforestation and other forms of extractivism, the Chilean state continues to prosecute Mapuche activists under a counter-terrorism legislation introduced by the military dictatorship.
Every Mapuche knows another—a relative, a friend or acquaintance—who is or has been a political prisoner. Besieged physically, the Mapuche are nonetheless able to travel spiritually, a process the Mapudungun language calls perimontun (vision or apparition). Cinema grafts itself easily onto the Mapuche ability to inhabit the tangible and the intangible, the reel operating as a portal to the political and spiritual dimensions of the Mapuche world.
---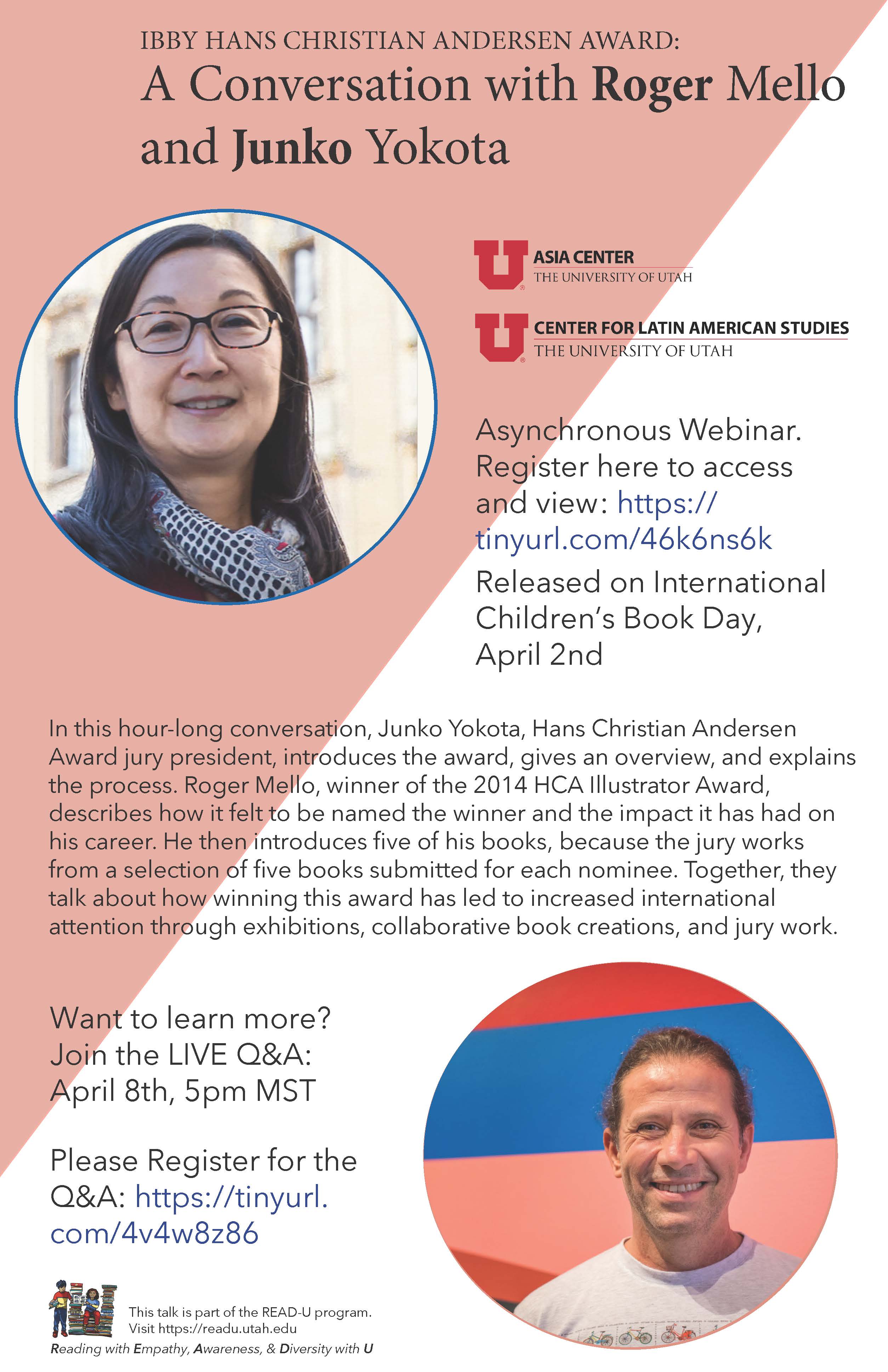 A Conversation with Roger Mello and Junko Yokota
In this hour-long conversation, Junko Yokota, Hans Christian Andersen Award jury president, introduces the award, gives an overview, and explains the process. Roger Mello, winner of the 2014 HCA Illustrator Award, describes how it felt to be named the winner and the impact it has had on his career. He then introduces five of his books, because the jury works from a selection of five books submitted for each nominee. Together, they talk about how winning this award has led to increased international attention through exhibitions, collaborative book creations, and jury work.
WATCH ASYNCHRONOUS WEBINAR HERE
---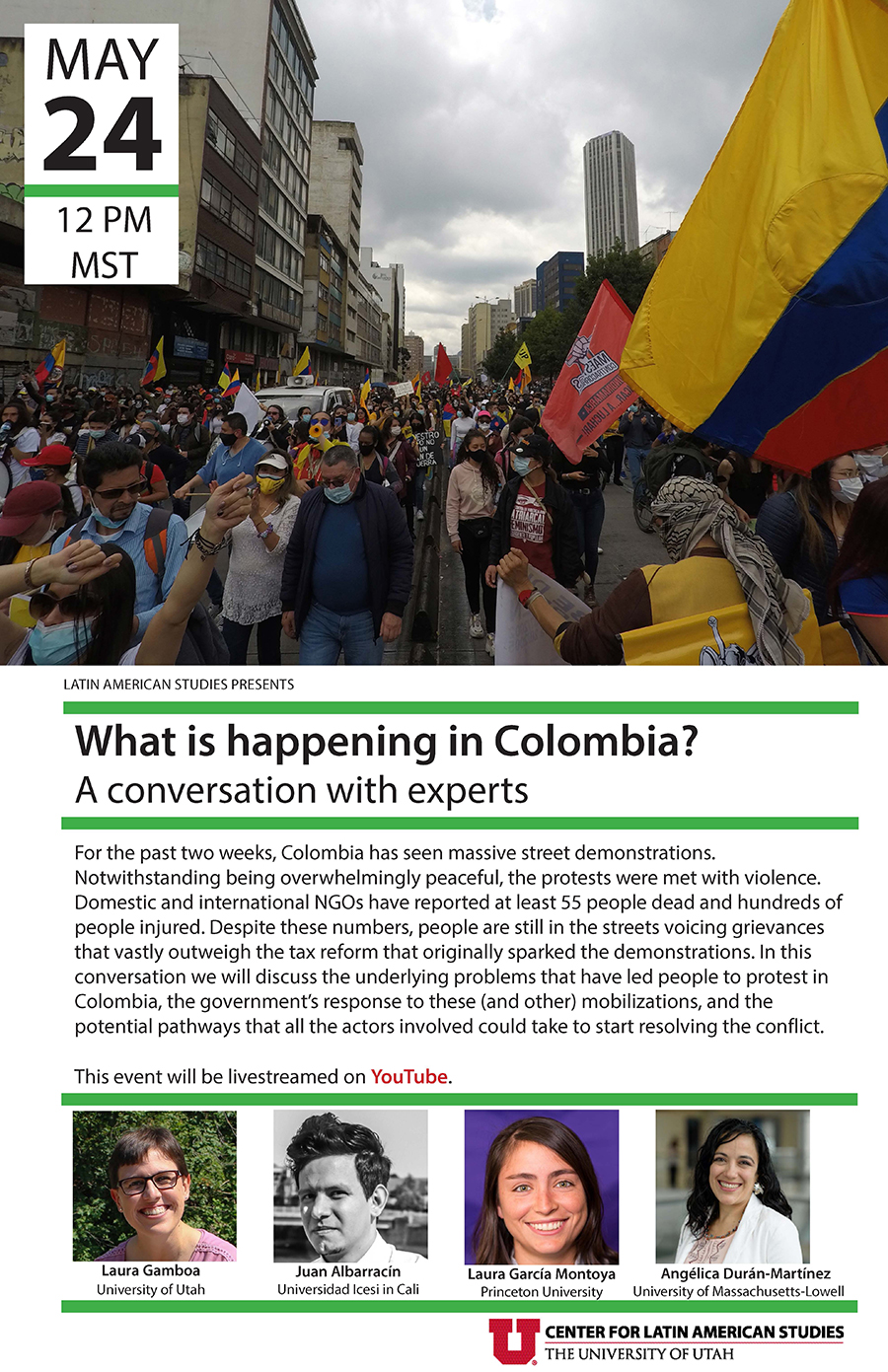 What is happening in Colombia? A conversation with experts
For the past two weeks, Colombia has seen massive street demonstrations. Notwithstanding being overwhelmingly peaceful, the protests were met with violence. Domestic and international NGOs have reported at least 55 people dead and hundreds of people injured. Despite these numbers, people are still in the streets voicing grievances that vastly outweigh the tax reform that originally sparked the demonstrations. In this conversation we will discuss the underlying problems that have led people to protest in Colombia, the government's response to these (and other) mobilizations, and the potential pathways that all the actors involved could take to start resolving the conflict.
Speakers:
Dr. Laura Gamboa is an assistant professor in the Department of Political Science at the University of Utah
Dr. Angélica Durán-Martínez is an associate professor of Political Science at the University of Massachusetts-Lowell.
Dr. Juan Albarracín is the director of the Political Science Program and assistant professor of political science at Universidad Icesi in Cali, Colombia.
Dr. Laura García Montoya is a Postdoctoral Research Associate at the Mamdouha S. Bobst Center for Peace and Justice and the Department of Politics at Princeton University.
---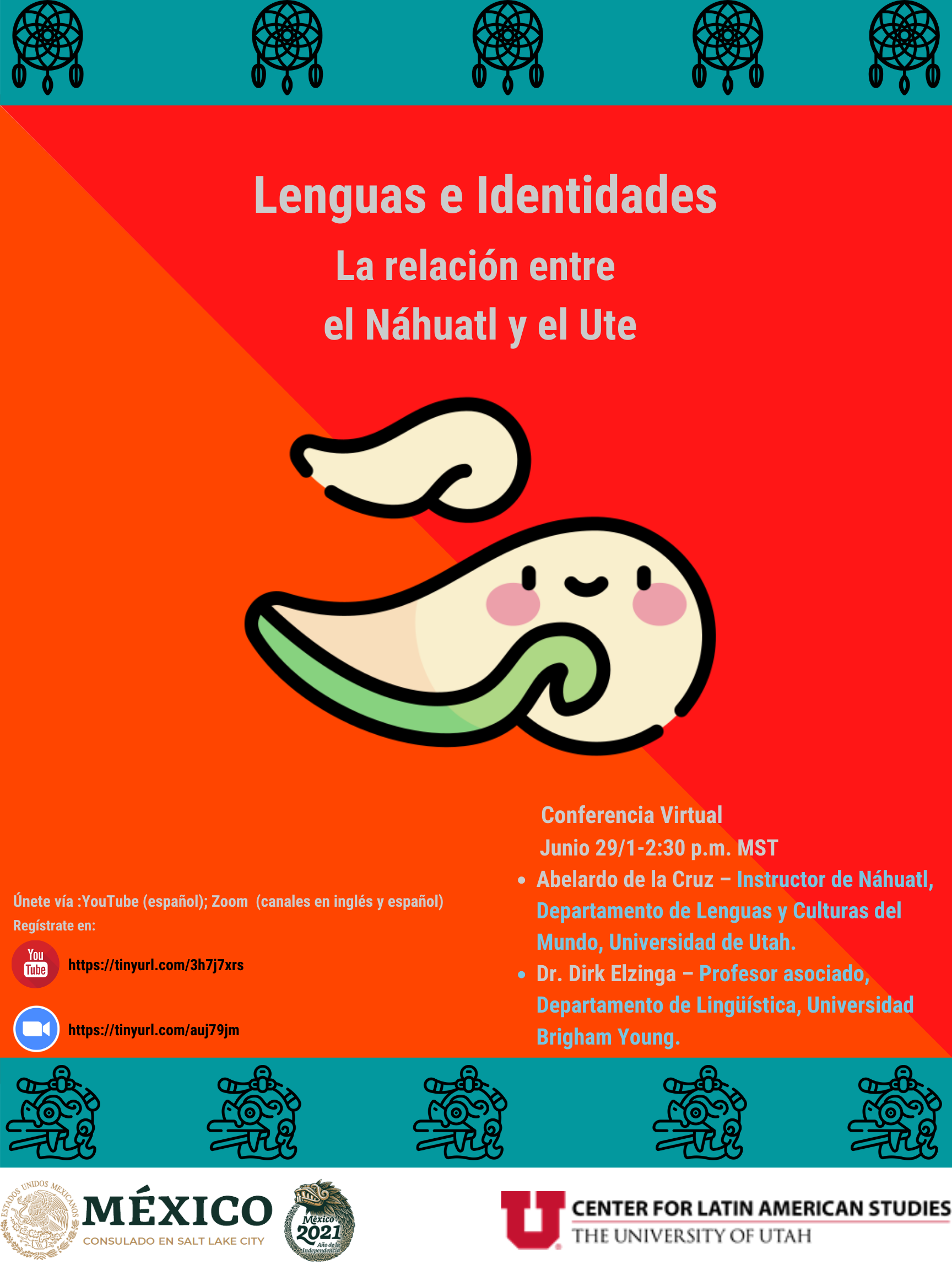 Social Justice for Latinx Americans and Communities
In partnership with the Consulate of Mexico in Salt Lake City, join us for a virtual discussion with experts as they discuss two indigenous language groups, Ute and Nahuatl. Ute and Nahuatl occupy opposite ends of the Uto-Aztecan language family -- not only geographically but also linguistically. This presentation will highlight some of the similarities and differences between the two languages and cultures and explain why linguists are nevertheless convinced that they belong together.
Speakers:
Abelardo de la Cruz,

Nahuatl instructor, Department of World Languages and Cultures at the University of Utah where he teaches for the Salt Lake Community College, the University of California, Berkeley, and the University of California Merced and Associate Instructor at the Instituto de Docencia e Investigación Etnológica de Zacatecas, (IDIEZ AC)

Dirk Elzinga Ph.D, Associate Professor in the Linguistics Department at Brigham Young University in Provo, Utah
WATCH HERE IN ENGLISH WATCH HERE IN SPANISH
---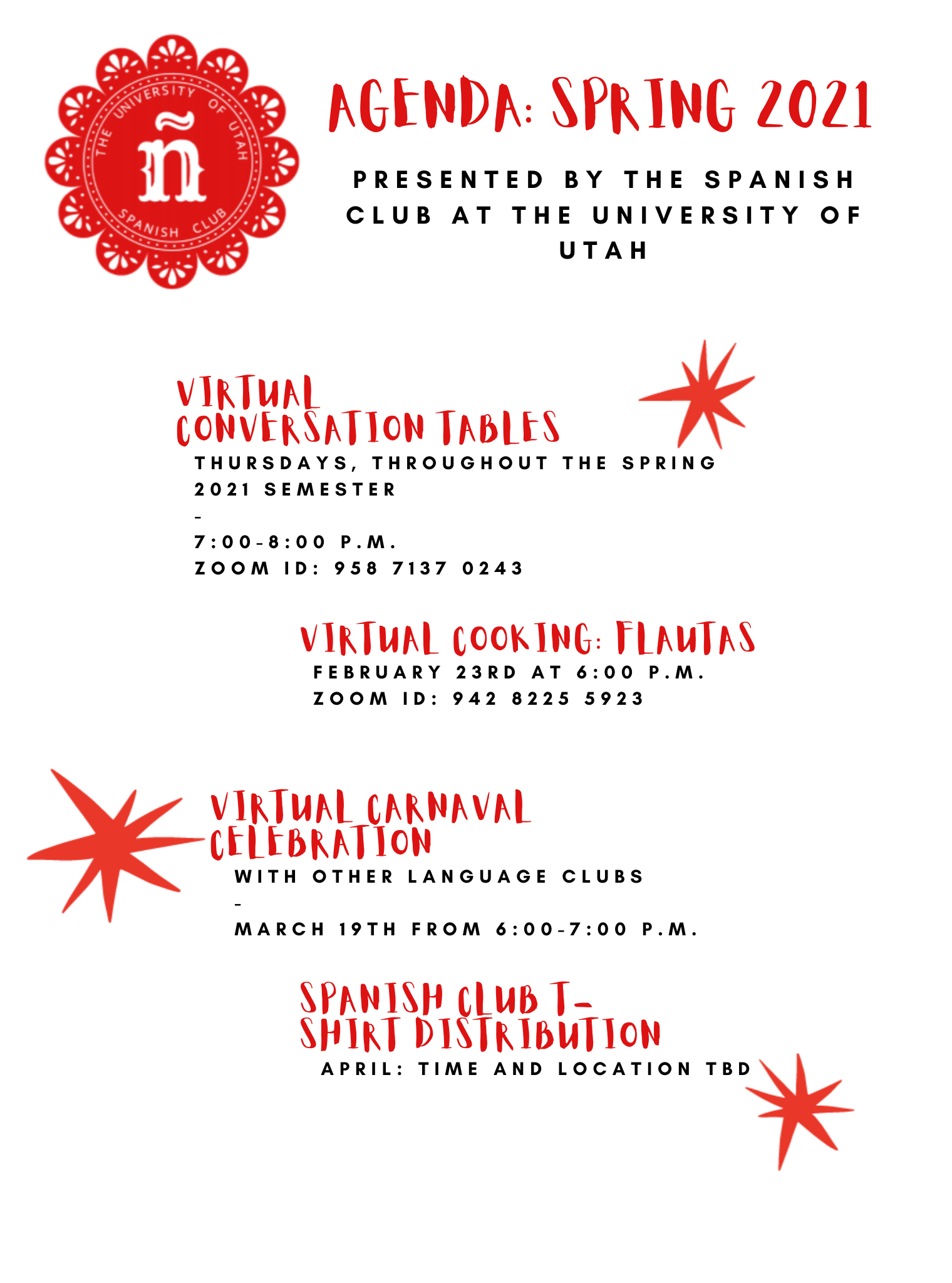 Spanish Club Virtual Conversation Hour
The Spanish Club met every Thursday throughout the Spring semester and held multiple functions including cooking flautas and celebrate Carnaval.
---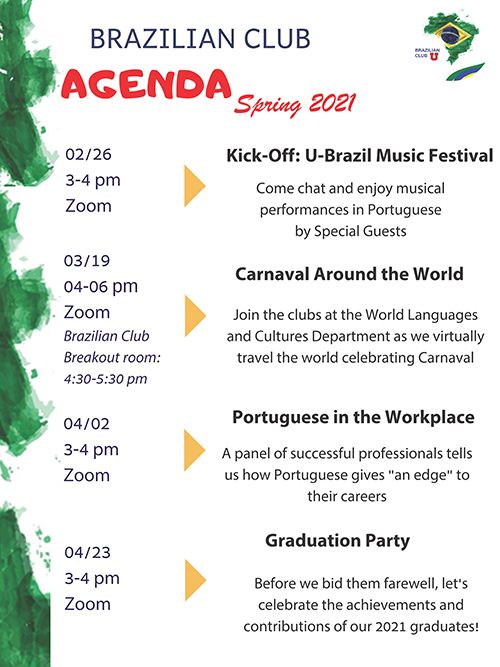 Brazilian Club Virtual Conversation Hour
The Brazilian Club met throughout the Spring semester and held multiple functions including U-Brazil Music Festical, celebrate Carnaval, Portuguese in the workplace, and a graduation party.