Utah Nahuatl Language and Culture Program
Intensive Nahuatl Language Study
Dates: June 20th - August 5th | Time: 9am to 5pm MST | FLAS Eligible
FLAS Application Due: January 28th, 2022
Summer Nahuatl Program Application Due: Aril 30th, 2022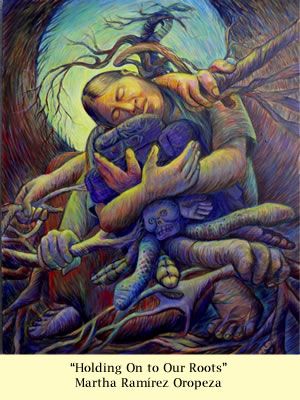 The Center for Latin American Studies at the University of Utah, in partnership with IDIEZ (the Instituto de Docencia e Investigación Etnológica de Zacatecas, Mexico) is offering the opportunity to study Classical and Modern forms of Nahuatl at the beginning, intermediate and advanced levels. Students will have class for at least five hours per day, Monday through Friday which will include a combination of class and small group instruction, cultural activities and presentations, and tutoring with native Nahuatl speakers.
Instruction is offered by highly trained native-language speakers and provides students with a solid foundation in Nahuatl, a Uto-Aztecan language spoken in Mexico, along with meaningful cultural activities.
The University of Utah has a rich history of Nahuatl studies that includes the English translation and publication of the Florentine Codex by Charles Dibble and Arthur Anderson. The UU Marriott Library's collection of facsimiles of Meso-American Codices is among the most important in the United States. The course is open to UU students, faculty, community members, and the public at large.
The course seeks to:
Develop students' oral comprehension, speaking, reading, writing as well as their cultural wisdom and sensibility, in order to communicate effectively, correctly and creatively in everyday situations
Provide students with instruments and experiences that demonstrate the continuity between past and present Nahua culture, through the study of colonial and modern texts and conversation with native speakers

Penetrate into the historical, economic, political, social and cultural aspects of Nahua civilization

Prepare students to take university level humanities courses taught in Nahuatl alongside native speakers
January 28, 2022 -Foreign Language and Area Studies fellowship (FLAS) Application Deadline (see Financial Assistance Page for more information.)
April 30th - Applications received by the April 30th deadline will be given preferential enrollment. Applications will be accepted on a rolling basis after the April 30th deadline until all spots are filled. Students are encouraged to apply before April 30th as space may be limited after this date. Students applying for FLAS fellowships should also complete the Summer Nahuatl Program Application as soon as possible to secure preferential enrollment. Completing the online summer Nahuatl application does not commit the student to attend the program should their circumstances change or if FLAS or other funding isn't awarded but is crucial in securing preferential enrollment.
Students who complete this intensive language course will be awarded 6-8 credits (8 credits for beginner and intermediate and 6 credit for advanced), equivalent to two semesters of intensive coursework.
$5,000. Room and board are not included in the $5,000 tuition.
Housing is available on campus in shared apartments. Our goal is to create a language learning community on campus, so students are strongly encouraged to stay on campus. Approximate costs for on-campus housing will be $1200 for 6 weeks. Meals are not included.
Some partial tuition assistance is available. The program is FLAS eligible.
"I am a returning summer student because my education in Nahuatl has not only enriched my research and made it more critical, but I have become more and more invested in the revitalization of Indigenous languages and Nahua history and culture. The 2020 Summer Program helped me build connections with Nahua instructors from IDIEZ who have taught me the necessity and politics of Indigenous-led, community-centered language revitalization projects. In personal conversations, I learned about instructors' academic work and challenges with producing ethical knowledge. In my 1:1 sessions, I learned more about differences in Classical and Modern Nahuatl by discussing The Cantares Mexicanos as interpreted by scholars like Miguel León-Portilla. The Brown Bag talks exposed me to Nahua scholars and other Indigenous researchers such as Lourdes Alberto, whom I developed a connection to and provided me key questions and suggestions for my future work. Inspired by Dr. Alberto and what I learned last summer, I am producing a Qualifying Paper that does literary analysis of Gloria Anzaldúa's Borderlands from the perspective of the Mexica deities and places invoked in the text. I aim to publish a version of this work and push Chicanx Studies to re-examine its treatment of Mexica culture and its relation to Indigenous people. As an aspiring Chicanx Studies/Latinx Studies professor, my goal is to push scholars and students to think transborder-ly about how discrimination against Indigenous peoples travels. I believe issues around Chicanx identity can potentially be resolved by educating more about Mexican histories of colonialism and Indigenous peoples enduring forms of resistance and survival. I also value my connections with IDIEZ instructors and want to explore how I can use my ethnographic training, educational experience, and Nahuatl knowledge to support language revitalization and preservation of Nahua knowledges."
- Jose Ruben Diaz Vasquez, PhD student from Stanford
The 2022 Summer Nahuatl program will be held in person at The University of Utah at this time. We understand these are challenging times and will continue to monitor the situation.
For more information: If you have questions about applications, the curriculum, financial please contact us at summernahuatl@utah.edu.