Information About our Partnership Events
Get information for past and upcoming partnership events in Latin American Studies. We'd love to have you join us. More information coming soon.
The Salt Lake region in the Aztec-Mexica Migration Story Codices and historic Maps: Facts or Conjecture?
On Sept 15-16, Dr. Cintli and Tania Pacheco will speak to this ancient story - found in several Mexican Indigenous codices - including La tira de la peregrinacion - that speak to their departure from Aztlan and Chicomoztoc, the seven caves. They will speak to whether this migration actually began in the Salt Lake region. This program is made possible with support from the Center for Latin American Studies at the University of Utah, Antelope Island State Park, and Utah Humanities.
Dr. Cintli, emeritus associate professor at the University of Arizona and Tania Pacheco, a healer and Yoga instructor are a writing/editing/translation team that examine the original cultures of the continent, including maiz or Maya-Nahua culture. Part of their work and research includes the topic of origins and migrations. A generation ago, Dr Cintli was led to Antelope Island, based on the reading of the codices and several historic maps, which indicated that from the Salt Lake region, the ancient Mexican Indians departed from there to find their empire. These maps included the 1804 Humboldt, the 1768 Alzate and the 1728 Barreiro maps, amongst others. Additionally, Tania, a healer and Yoga instructor, has translated both of Dr Cintli's books by the University of Arizona press, Our Sacred Maiz is our Mother: Indigeneity and belonging in the Americas (2014), and Yolqui: a Warrior Summoned from the Spirit World: Testimonios on violence (2019). She also selected the writings for his upcoming Writing 50 Years amongst the Gringos (Aztlan Libre Press Oct 1, 2021), which she will also be translating. The island is purportedly the site of seven caves.
This program is made possible with support from the Center for Latin American Studies at the University of Utah, Antelope Island State Park, and Utah Humanities.
---

Land of Cranes and the Moon Within with Aida Salazar
Join the Glendale Branch of the Salt Lake City Public Library for an evening with the powerful Aida Salazar, author of Land of Cranes and the Moon Within.
Nine-year-old Betita knows she is a crane. Papi has told her the story, even before her family fled to Los Angeles to seek refuge from cartel violence in Mexico. He says that Betita and her family are cranes that have returned to their promised land, Aztlán, land of the cranes. But one day, Papi is arrested by Immigration Customs Enforcement (ICE) and deported to Mexico. Betita and her pregnant mother are left behind on their own, but soon they too are detained and must learn to survive in a family detention camp. Even in cruel and inhumane conditions, Betita finds heart in her own poetry and in the community she and her mother find in the camp. Their voices fly above the hatred keeping them caged, but each day threatens to tear them down lower than they ever thought they could be. Will Betita and her family ever be whole again?
From the author of The Moon Within comes a heartbreaking story in verse of those subjected to unimaginable cruelty, yet who still find the hope to dream and carry on.
This program is made possible with support from The Center for Latin American Studies at the University of Utah, The Salt Lake City Public Library, and Utah Humanities.
---

A Celebration of Children's and YA Latin American and Latinx Literature at the Library of Congress
Join the Hispanic Reading Room at the Library of Congress and Consortium of Latin American Studies Programs (CLASP) in a virtual celebration of children's and YA Latin American and Latinx literature. Hear from authors and illustrators amplifying stories and voices from across Latin American and Latinx communities. Panelists Angela Burke Kunkel, Aida Salazar, Raúl The Third, Sili Recio, and Yamile Saied Méndez will share their creative processes, discuss where they find inspiration, and how they address difficult themes about Latin American and Latinx experiences in their work for young readers. We invite families, educators, and students to take part in this unique celebration during Hispanic Heritage Month.
---

Conversaciones y Reflexiones sobre la Cultura Nahua
Este encuentro busca hacer diálogo entre académicos sobre la cultura náhuatl para discutir temas actuales e históricos. En esta presentación se invitan a tres especialistas en la materia quienes se destacan por sus investigaciones en el ámbito histórico, en los estudios mesoamericanos y los estudios coloniales sobre México. En primer lugar, se inicia de la educación formal que se buscaba por las mujeres de una comunidad de Chicontepec y la transmisión de la cultura materna a las nuevas generaciones. Enseguida se presenta el tema de los sueños como una parte asociada con la tradición oral de las comunidades nahuas de hoy en las regiones de Tlaxcala y Puebla. Para finalizar se presentan las obras de teatro en náhuatl producidos durante la época colonial en referencia al diálogo que existe entre el Cristo indígena y los personajes femeninos.
Presenters:

Dra. Jacinta Toribio Torres, Universidad Veracruzana Intercultural - Ixtlamatilistli. El papel de las mujeres nahuas de Tepenahuac en la formación educativa de la niñez.

Fabiola Carrillo Tieco, Universidad Nacional Autónoma de México - La noche y los sueños entre los nahuas de la Sierra Norte de Puebla y la región de La Malinche

Dr. Louise M. Burkhart, University at Albany-SUNY - Diálogos de la Pasión de Jesucristo en náhuatl y en castellano, siglo XVIII

Moderator:

Abelardo de la Cruz de la Cruz, Associate Instructor, World Languages ​​and Cultures, University of Utah

Openers:

Dr. Susie Porter, Director, Center for Latin American Studies Director and Professor of History and Gender Studies at the University of Utah
This program is made possible with support from The Center for Latin American Studies at the University of Utah, IDIEZ, and Universidad Veracruzana Intercultural.
---

Dia de Los Muertos Altar
A meaningful day of honoring and remembering your loved ones!
This program is made possible with support from The Center for Latin American Studies and TRIO at the University of Utah.
---

Filméxico 2021
Filméxico 2021 lineup will feature prominent works by Afro Mexican and Indigenous filmmakers, as well as seasoned, new and local talent. We will also present a series of panel discussions with Mexican filmmakers, Utah community leaders and cultural binational specialists and allies.
Lineup Highlights:
TÍO YIM / UNCLE YIM, DIR. LUNA MARÁN
Uncle Yim is a powerful documentary immersing us in the identity of a family shaped by tradition, music, and communality.
About Luna Marán: Native of the Zapotec community of Guelatao de Juárez, Oaxaca, she is part of the second generation of filmmakers in her community. She is cofounder of CAI, Aquí Cine, Cine Too Lab, JEQO and Brujazul, with which she produced the film Los años azules (2017), winner of 10 awards and nominated as Best directorial debut in the Arieles 2018. She is director of Me parezco tanto a ti (2011) and Tío Yim (2019) and producer of Cock's Quickie (2021).
BOCA DE CULEBRA / SNAKE'S MOUTH, DIR. ADRIANA OTERO
(You met her in Filméxico 2021 with her multi awarded film "What Happened to the Bees?")
Chicán (chi´kaan), Mayan word that means 'snake's mouth', is a small Mayan community in the south of Yucatan where for generations its inhabitants have been born with a particular characteristic and share the same surnames. This documentary portrays the life of a family from that place and their resilience in a village where tradition will continue unless someone breaks the cycle.
NEGRA / BLACK WOMAN, DIR. MEDHIN TEWOLDE
(You met her in Salt Lake Film Society's Sundance 2021 Panels)
"Negra" shows the director in her search of exploring what it means to inhabit Mexico as a black woman. It tells the story of five afro-descendant women from southern Mexico, exposing racism, resistance and processes of self-acceptance, strategies for transcending stereotypes, and the celebration of their identity.
LA FELICIDAD EN LA QUE VIVO / THE HAPPINESS IN WHICH I LIVE, DIR. CARLOS MORALES
(You met him in Sundance Film Festival 2017 and at the 'Symphonie of a Sad Sea' community conversation co-presented by The Consulate of Mexico and Salt Lake Film Society)
Building an asylum for the LGBT + community is the dream of Samantha, an 88-year-old trans woman. The happiness in which she lives is an emotional story that evokes reflection on inclusion. Samantha tells what her life has been like, love, family, old age but above all the importance of continuing to have dreams as incentives to continue on the final stage of life.
Filméxico is made possible by the Center for Latin American Studies at the University of Utah and Salt Lake Film Society (SLFS).
---

Florentine Codex: Life and Art form the Nahuatl World/ El Códice Florentino: Vida y Arte del mundo Náhuatl
This event was held in Spanish.
The Consulate of Mexico in Salt Lake City in coordination with the University of Utah and the Los Angeles County Museum of Art (LACMA) presents the virtual event "The Florentine Codex: Life and Artof the Nahuatl world." The life of the pre-Hispanic Nahuatl people was painstakingly documented by Fray Bernardino de Sahagún along with local scribes, grammatists and painters. The resulting work was called "General History of the Things of New Spain" commonly known as "The Florentine Codex". Two extraordinary speakers from different institutions will participate in the cultural activity:
Specialist Diana Magaloni Kerpel, Institute of Aesthetics Research (UNAM) and Art of the Ancient Americas Program Director at the Los Angeles County Museum of Art (LACMA) will present "Colors of the new world: Florentine Codex artists and writers"
Specialist Abelardo de la Cruz, University of Utah professor and researcher de la Universidad de Utah, specialist of the native Nahuatl language, presenting "Nahua Voices in the 16th Century: A Source of Cultural Continuity"
Both speakers will reveal the peculiarities of the Florentine Codex and their experiences around their research on it.
Tune in to this talk / Facebook Live on November 15 at 7:00 pm (UT) / 6:00 pm (CAL) through our social networks.
https://www.facebook.com/LACMA
This program is made possible with support from The Center for Latin American Studies at the University of Utah, Consulate of Mexico in Salt Lake City, and Los Angeles County Museum of Art.
---

LASA Center Director Section Series: Indigeneity, Afro-descendants, and other marginalized populations in Latin America Monthly Speaker Series 2021-2022
Types of Justice in the Americas for Racialized Persons
A multidisciplinary panel that examines Indigenous and Afro Latin Americans experiences in distributive, procedural, reparative, and restorative varieties of justice.
Guest Speakers:
Sandra Condori – Identidad Marrón, Argentina

Alejandro Mamani – Identidad Marrón, Argentina

Camila Gianella Malca – CIESPA-PUCP, Perú

Mariana Gómez – CEL/LICH-UNSAM & CONICET, Argentina

Marcus Johnson – LACS/GVPT-UMD, US

Keisha Allan – LACS-UMD, US
Moderator:
Isabella Alcañiz – LACS/GVPT-UMD, US
Educación Superior y Estrategias Antiracistas
Our panelists will discuss the strategies they used to survive and excel in a racist society and institutions. The challenges of diversifying its institutions by giving access to non-white-mestizo students and teachers. The strategies to decolonize the curricula and the prospects of democratizing access to education in Ecuador.
This event is organized and moderated by Dr.
Carlos de la Torre
and the
Center for Latin American Studies at the University of Florida
and
will count with the participation of Dr. John Antón (Instituto de Altos Estudios Nacionales, Ecuador), Dr. Luis Alberto Tuaza (Universidad Nacional de Chimborazo, Ecuador), and Dr. Jean Rahier (Observatorio de Justicia para Frodescendiente en Latinoamérica).
The African-descended contribution to Cuban independence
For the third installment of the LASA Center Director Section Series on Indigeneity, Afro-descendants, and other marginalized populations in Latin America. This roundtable discussion on African-descended peoples' contribution to the stuggle for Cuban independence and their role in creating a racially inclusive nationality. Hosted by Stephen Wilkinson, Senior Lecturer in Politics and International Relations and Director of the International Institute for the Study of Cuba at the University of Buckingham, alongside Marta Carminero-Santangelo, Director of the UNiversity of Kansas Center for Latin American Studies and Caribbean Studies
Participants
Cécile Accilien, Kennesaw State University,
Aisha Finch, Emory University
Bonnie Lucero, University of Houston –Downtown
Main contact: Stephen Wilkinson: stephen.wilkinson@buckingham.ac.uk
It is commonly understood that the exceptional raceless Cuban national identity is rooted in the 19th Century wars of independence that combined the struggle for abolition with the struggle for independence, thereby pitting African-descended and European-descended Cubans together in a common fight for liberty, both from enslavement and colonial control. This roundtable brings together three renowned scholars to discuss the ways in which nineteenth-century Cubans of African descent reimagined Cuban national identity and independence. Attending to the experiences of women as well as men, the panel will explore how African descended slaves and free blacks rebelled prior to the first War of Independence of 1868, asking whether it can be argued that a vision of a future raceless society might have been an aim of these insurrectionists, possibly inspired by the Haitian Revolution.
Cécile Accilien is Professor and Chair in the Interdisciplinary Studies Department at Kennesaw State University in Kennesaw, Georgia. She co-edited and contributed to two collections of essays, Revolutionary Freedoms: A History of Survival, Strength and Imagination in Haiti.
Aisha Finch is Acting Associate Professor of Women's, Gender, and Sexuality Studies at Emory University. She is the author of Rethinking Slave Rebellion in Cuba: La Escalera and the Insurgencies of 1841-1844, and the co-editor, with Fannie T. Rushing, of Breaking the Chains, Forging the Nation: The Afro-Cuban Fight for Freedom and Equality, 1812-1912.
Bonnie A. Lucero is Associate Professor of History and Director of the Center for Latino Studies, University of Houston-Downtown. She is the author of Revolutionary Masculinity and Racial Inequality: Gendering War and Politics in Cuba and A Cuban City, Segregated: Race and Urbanization in the Nineteenth Century.
---
Past Partnership Events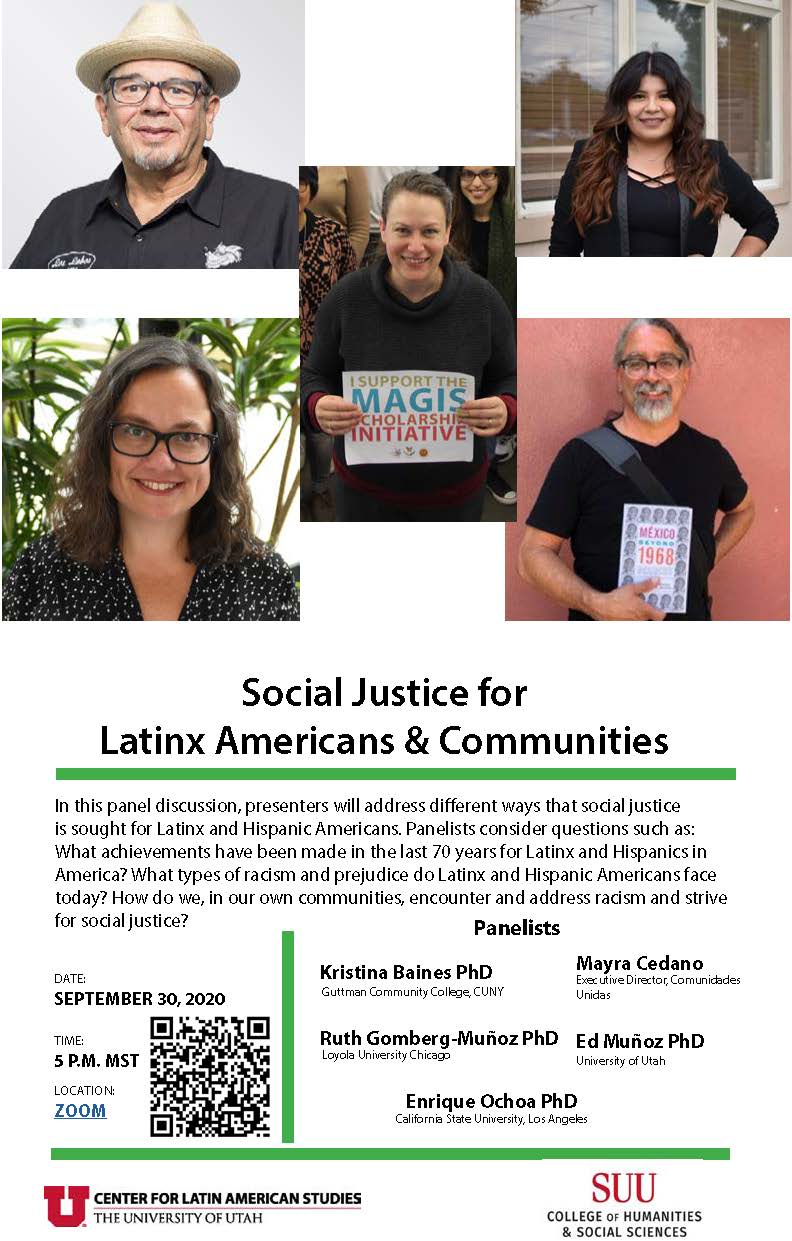 Social Justice for Latinx Americans and Communities
In this panel discussion, presenters will address different ways that social justice is sought for Latinx and Hispanic Americans. Panelists consider questions such as: What achievements have been made in the last 70 years for Latinx and Hispanics in America? What types of racism and prejudice do Latinx and Hispanic Americans face today? How do we, in our own communities, encounter and address racism and strive for social justice?
Panelists:
Kristina Baines PhD, Guttman Community College, CUNY
Mayra Cedano, Executive Director, Comunidades Unidas
Ruth Gomberg-Muñoz PhD, Loyola University Chicago
Ed Muñoz PhD, University of Utah
Enrique Ochoa PhD, California State University, Los Angeles
---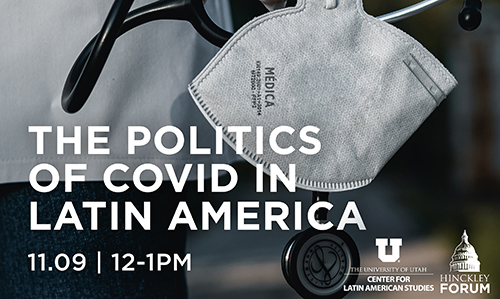 The Politics of Covid in Latin America
Latin American countries have been among the hardest hit by the COVID-19 pandemic, with the impacts exacerbated by weak social protection, decaying health-care systems, and profound socioeconomic inequalities. The economic consequences are also dire, with the region facing its worst recession in a century, pushing the number of people living in poverty up by 45 million. This panel will examine government responses to the pandemic in Brazil, Colombia, Mexico and Venezuela, and explore the long-term political implications for the region.
Claudio Holzner, Director, Center for Latin American Studies and Associate Professor of Political Science at University of Utah

David De Micheli, Ph.D., Assistant Professor of Political Science and Division of Ethnic Studies at University of Utah

Laura Gamboa, Assistant Professor of Political Science at University of Utah

Caitlin Andrews-Lee, Assistant Professor in the Department of Politics and Public Administration at Ryerson University
---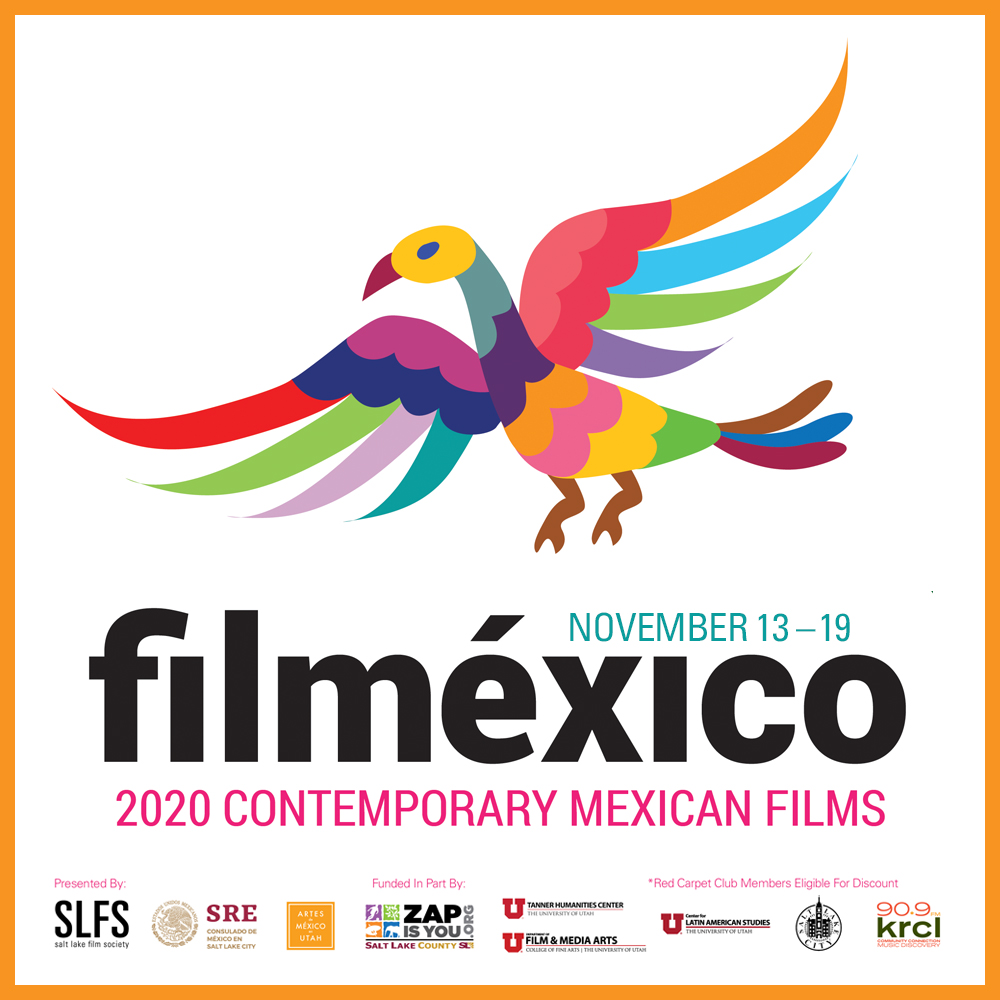 Filméxico Screening: Identifying Features (Sin Señales Particulares)
Filméxico, Salt Lake Film Society's annual celebration of contemporary Mexican cinema, took place virtually this year, November 13 through 19! Three feature films and a short program were available to view from home. On opening night, Identifying Features, a Sundance 2020 film was shown. Guests were also given access to a pre-recorded discussion with the filmmakers moderated by CLAS director, Claudio Holzner.
Film Synopsis: Middle-aged Magdalena has lost contact with her son after he took off with a friend from their town of Guanajuato to cross the border into the US, hopeful to find work. Desperate to find out what happened to him, she embarks on an increasingly dangerous journey to discover the truth.
---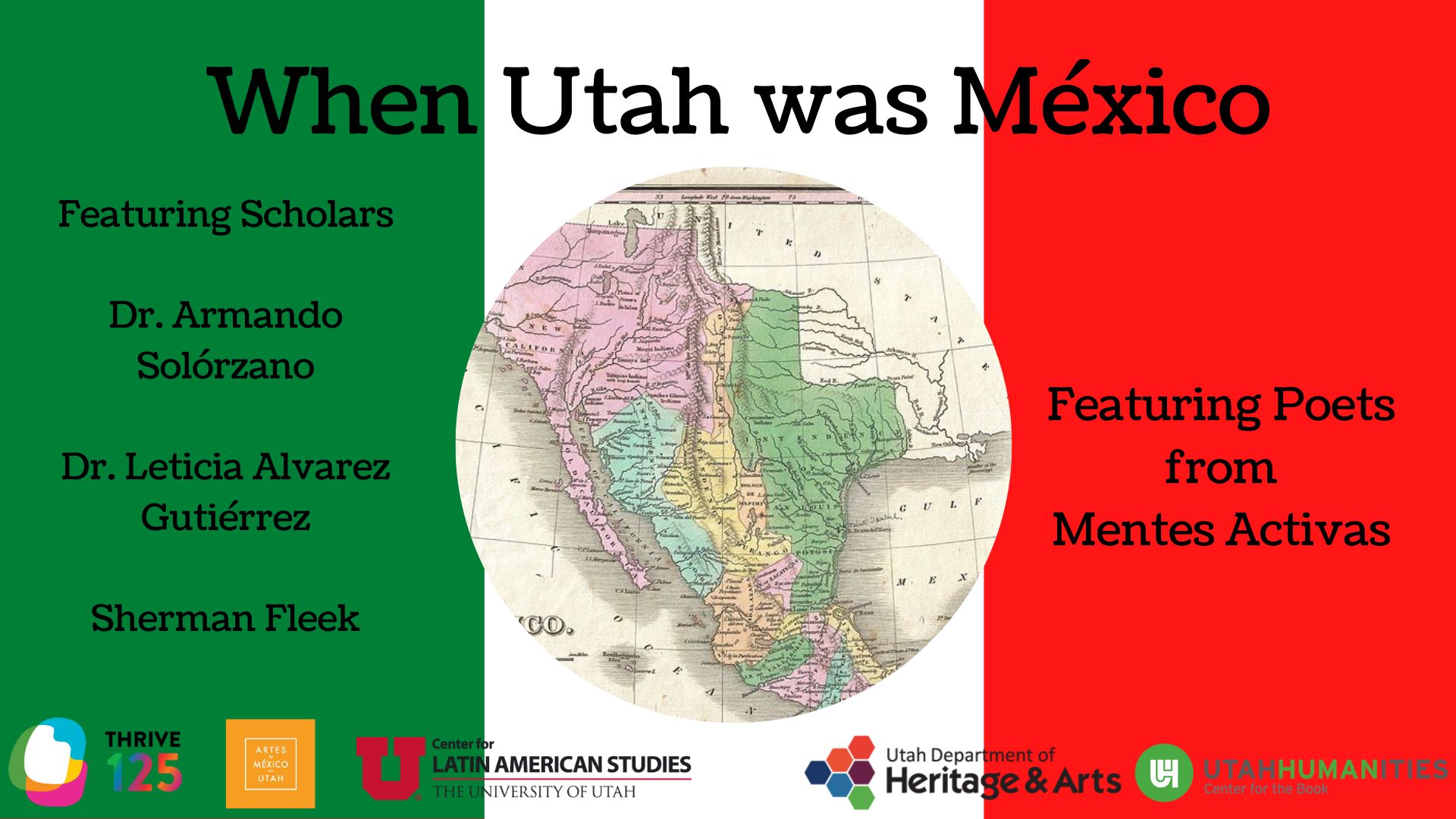 Thrive 125: When Utah was Mexico
The Center for Latin American Studies at the University of Utah and Artes de México en Utah are excited to present Thrive 125: When Utah was Mexico. For educators and beyond, this program will tackle the history of Utah before statehood, when it was Mexican territory, focusing on the significance of this history and what it means to Utah today. We are pleased to welcome Dr. Armando Solorzano and Sherman Fleek to the conversation, and poets from Mentes Activas Utah to introduce the event.
---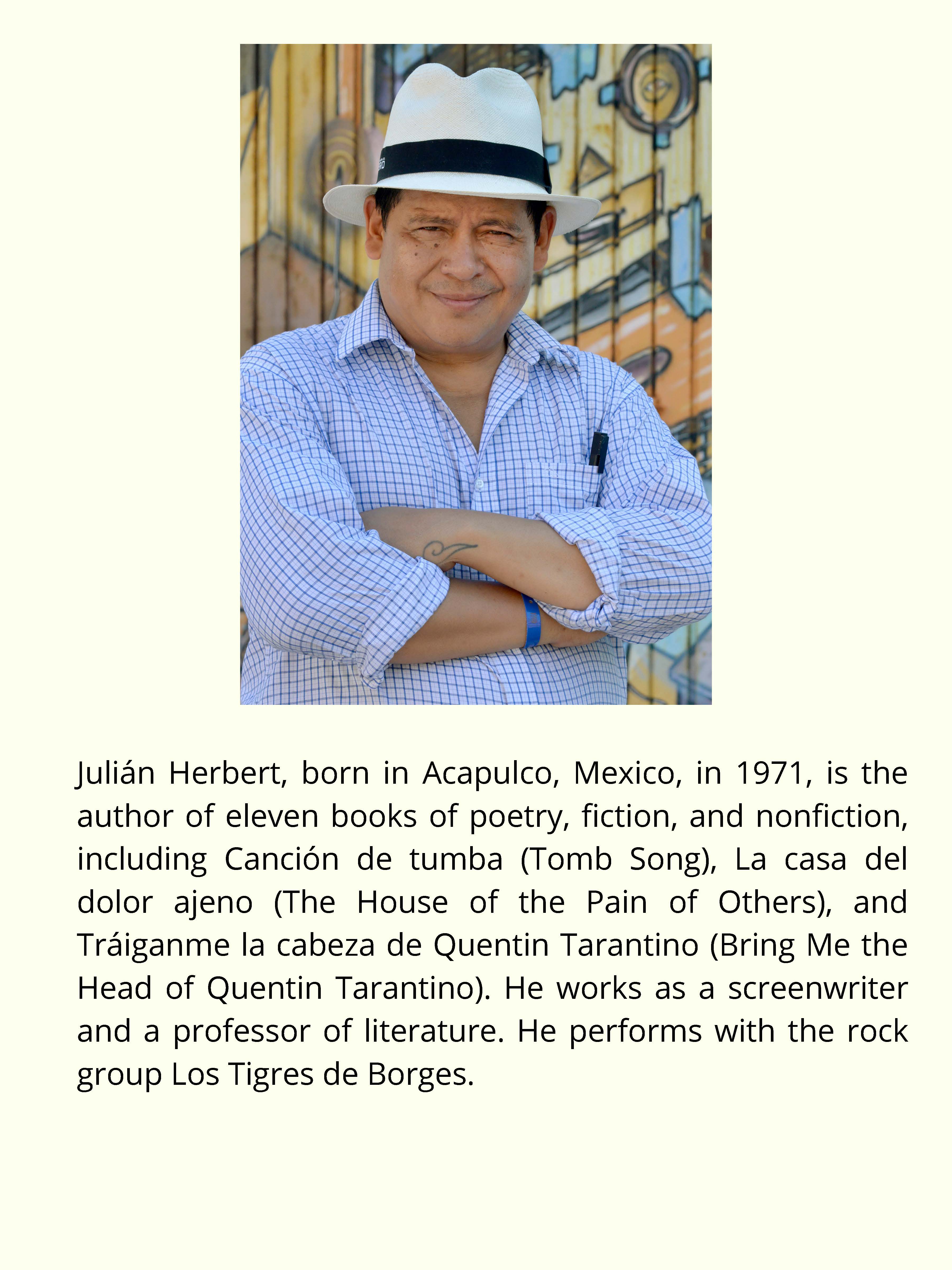 Julián Herbert: "Una tarde de literatura" Student Event
A short discussion with Julián Herbert about his journey and literature.
---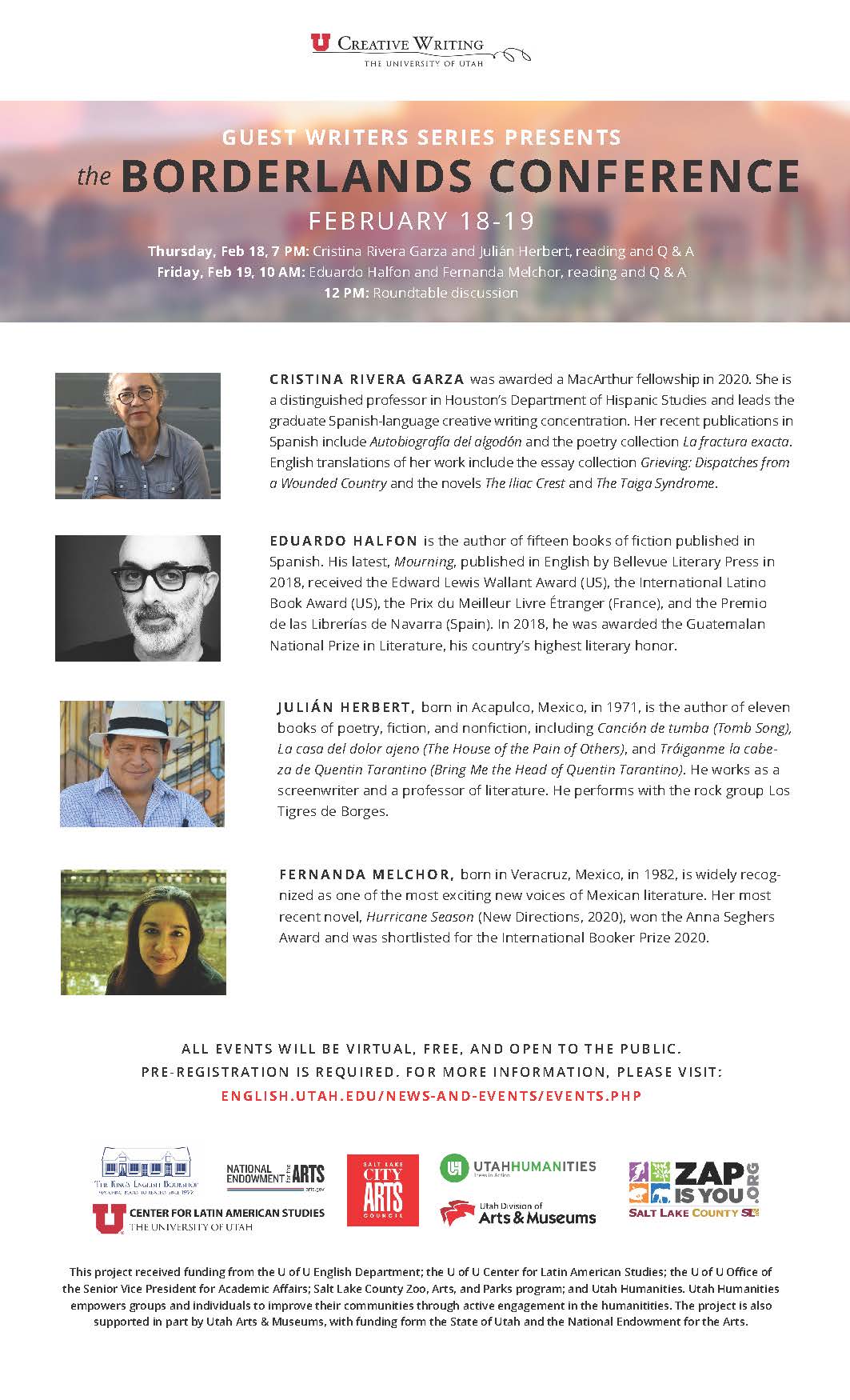 Borderlands Conference
Each year, the Guest Writers Series at the University of Utah brings distinguished authors to Salt Lake City. Our goal is to provide our community with an opportunity to engage in a dynamic, educational and inspiring relationship with literature. We aim to bring in a diverse array of voices and perspectives, and to provide a platform for an enriching dialogue between our authors and the audience.
Cristina Rivera Garza
Cristina Rivera Garza received a BA (1987) from the National Autonomous University of Mexico and PhD (1995) from the University of Houston. She was affiliated with San Diego State University (1997–2004), ITESM-Campus Toluca (2004–2008), and the University of California at San Diego (2008–2015) prior to joining the faculty of the University of Houston in 2016, where she is a distinguished professor in the Department of Hispanic Studies and leads the graduate Spanish-language creative writing concentration. Her recent publications in Spanish include Autobiografía del algodón (2020), the poetry collection La fractura exacta (2020), and the audiobook Ciudad XY (2020), and additional works translated into English include the essay collections The Restless Dead: Necrowriting and Disappropriation (2013/2020), Grieving: Dispatches from a Wounded Country (2011/2020), and La Castañeda Insane Asylum: Narratives of Pain in Modern Mexico (2010/2020).
Julián Herbert
Julián Herbert was born in Acapulco in 1971. He is a writer, musician, and teacher, and is the author of The House of the Pain of Others and Tomb Song, as well as several volumes of poetry and two story collections. He lives in Saltillo, Mexico.\
Fernanda Melchor
Born in Veracruz, Mexico, in 1982, Fernanda Melchor is widely recognized as one of the most exciting new voices of Mexican literature. Her novel Hurricane Season and collection This Is Not Miami are both forthcoming from New Directions.
Eduardo Halfon
Eduardo Halfon was born in Guatemala City, moved to the United States at the age of ten, went to school in South Florida, studied industrial engineering at North Carolina State University, and then returned to Guatemala to teach literature for eight years at Universidad Francisco Marroquín. Named one of the best young Latin American writers by the Hay Festival of Bogotá, he is also the recipient of a Guggenheim Fellowship, Roger Caillois Prize, José María de Pereda Prize for the Short Novel, and Guatemalan National Prize in Literature. He is the author of fourteen books published in Spanish and three novels published in English: Mourning, winner of the International Latino Book Award and Edward Lewis Wallant Award, finalist for the Kirkus Prize, Neustadt International Prize, and Balcones Fiction Prize, and longlisted for the PEN Translation Prize; Monastery, longlisted for the Best Translated Book Award; and The Polish Boxer, a New York Times Editors' Choice selection. Halfon currently lives in Nebraska, frequently travels to Guatemala, taught creative writing at the University of Iowa, and recently received a fellowship from Columbia University to write his next book in Paris.
---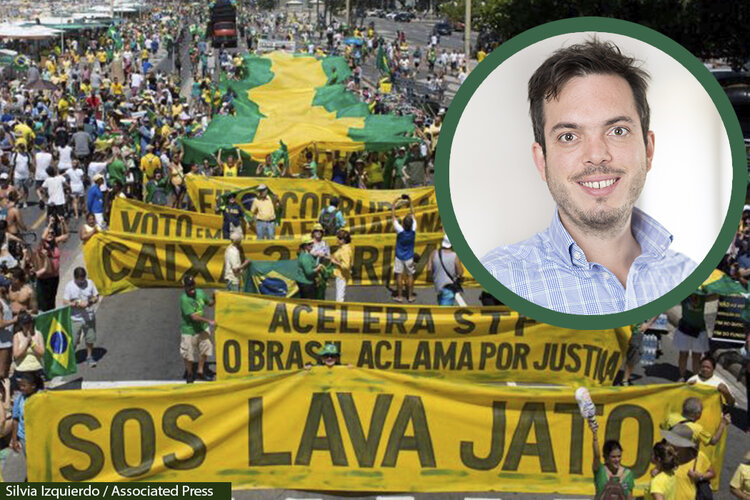 Hinckley Forum: The Criminalization of Corruption in Latin America
Ezequiel González-Ocantos, Associate Professor in the Department of Politics and International Relations, University of Oxford; Professional Fellow, Nuffield College
Operation Lava Jato started in Brazil as a money-laundering case. It quickly turned into a full-blown judicial anti-corruption crusade with far-reaching political implications across Latin America because the same companies at the heart of the Brazilian scandal offered kickbacks to public officials in at least 8 other countries. Critics see the prosecutorial zeal behind some of the national chapters of Lava Jatoas yet another instance of "lawfare." For others, however, it anticipates a new era of accountability and political regeneration. In this talk I discuss a current book project, which asks two sets of questions. First, what explains why the investigation gained momentum and delivered results in some countries but not others? The answer looks at the legacy of capacity-enhancing reforms in Latin America's prosecution services as well more immediate determinants of prosecutorial zeal and effectiveness. Second, the book relies on focus groups and original surveys to understand the impact of Lava Jato on public opinion. What kind of emotions and attitudes towards corruption and politics do voters experience when exposed to these shocks? Does LavaJato reinforce or curb political cynicism? Are all Lava Jato's created equal, or does the way in which different investigations unfold shape emotional and attitudinal responses?
---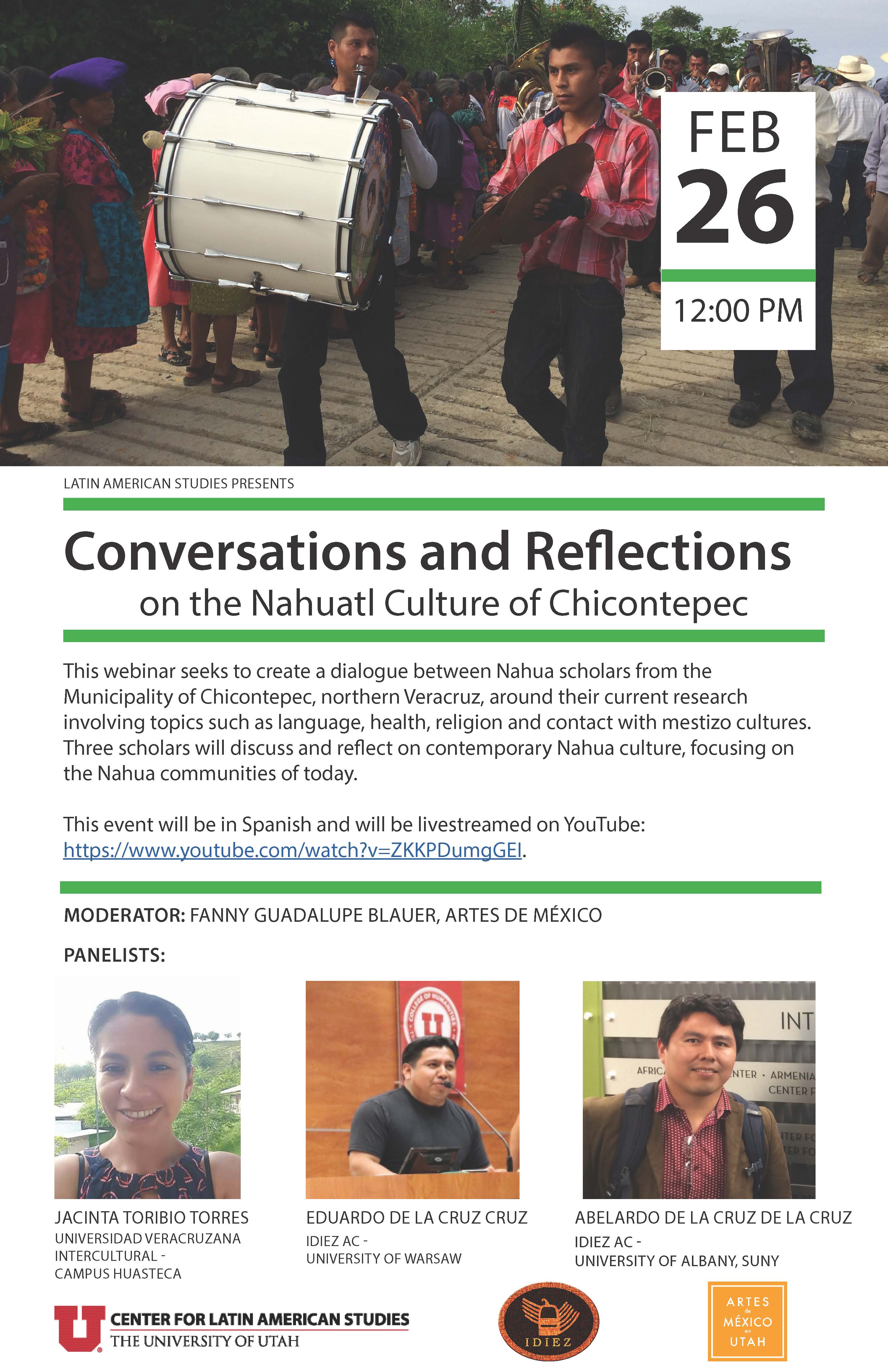 Conversations and Reflections on the Nahuatl Culture of Chicontepec
This webinar seeks to create a dialogue between Nahua scholars from the Municipality of Chicontepec, northern Veracruz, around their current research involving topics such as language, health, religion and contact with mestizo cultures. Scholars will talk and reflect on contemporary Nahua culture, focusing on the Nahua communities of the Municipality of Chicontepec.
Moderator:
Fanny Guadalupe Blauer, Artes de Mexico en Utah
Presenters:
Abelardo de la Cruz de la Cruz, Associate Instructor, World Languages and Cultures, University of Utah
Eduardo de la Cruz Cruz, Director de IDIEZ and Estudiante de doctorado en la Universidad de Varsovia
PhD. Jacinta Toribio Torres, Universidad Veracruzana Intercultural, Campus Huasteca
Watch Here Learn More About the Topics Discussed Here
---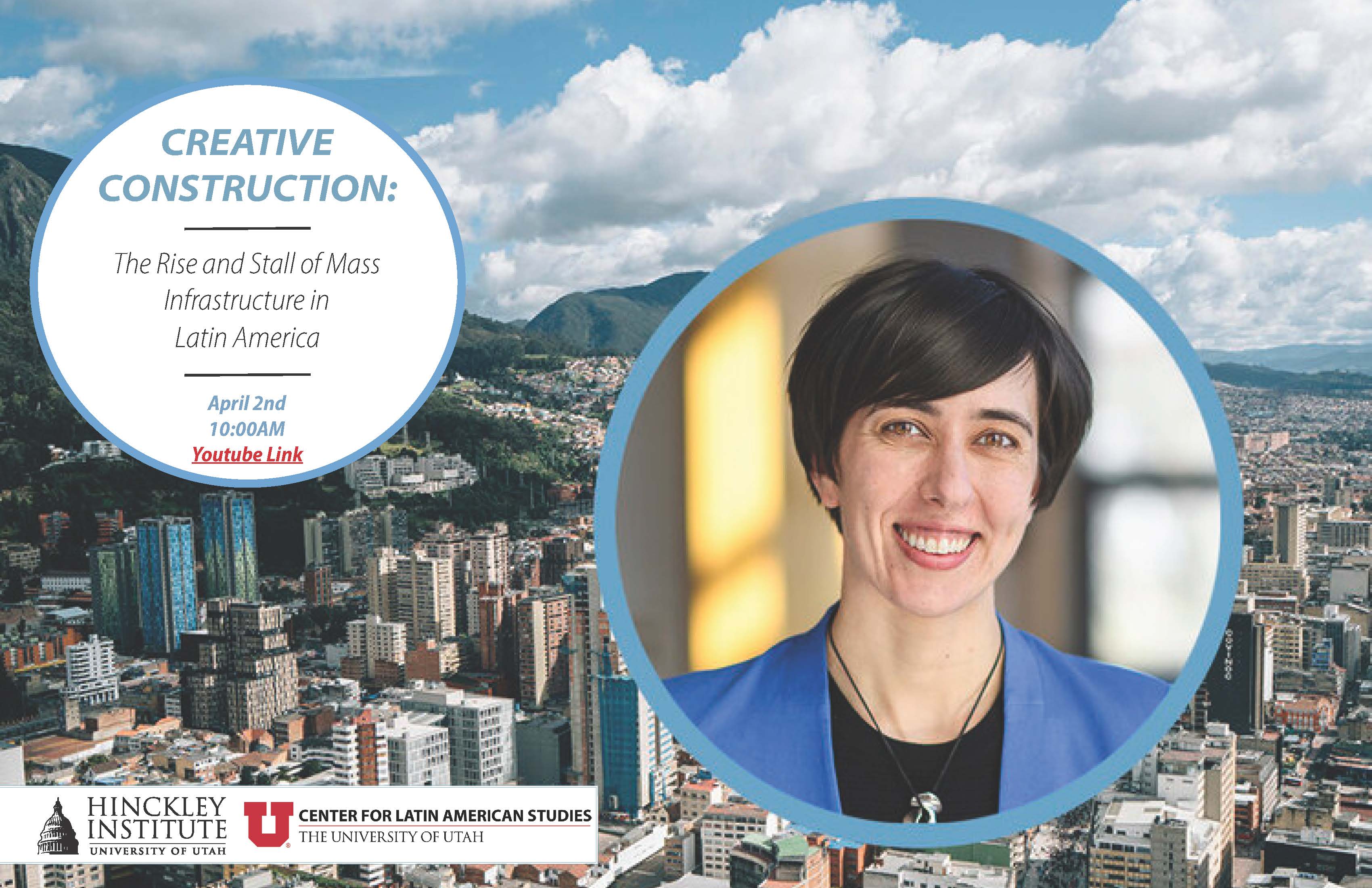 Creative Construction: The Rise and Stall of Mass Infrastructure in Latin America
Since 1990, spending on large infrastructure projects has increased across Latin America. This trend is puzzling because it comes at a time of democratization and decentralization thought to hinder investment in long-run and spatially concentrated projects. This talk explains the over-time growth in investment by highlighting the financialization of infrastructure. Private sector involvement in infrastructure projects created a fiscal illusion in which the costs of infrastructure accrued off government balance sheets. Politicians shifted the extremely high costs on to future governments. Private sector financing also resulted in an arena shift in which legislatures were cut out of budget decisions made primarily within finance ministries. Presidents allocated or renegotiated infrastructure contracts to finance their campaigns, and only had to overcome constraints from the administrative state. Qualitative evidence from Peru, Colombia, and Ecuador shows how changes in the model of building infrastructure help to explain the increase in level and project size over time, whereas campaign finance needs and bureaucratic hurdles shape individual country trajectories.
Alisha Holland, Associate Professor, Harvard University Government Department
---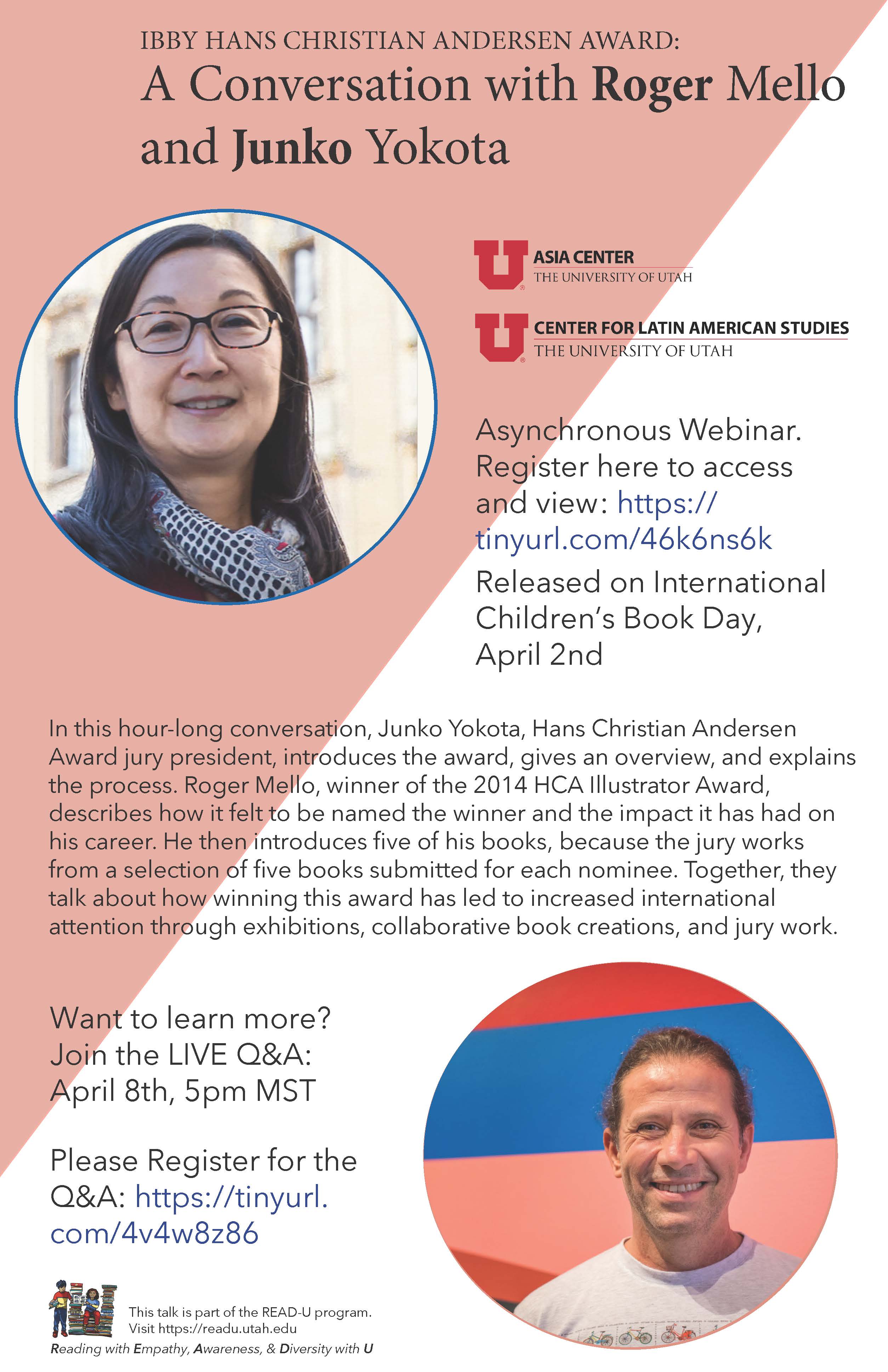 A Conversation with Roger Mello and Junko Yokota
In this hour-long conversation, Junko Yokota, Hans Christian Andersen Award jury president, introduces the award, gives an overview, and explains the process. Roger Mello, winner of the 2014 HCA Illustrator Award, describes how it felt to be named the winner and the impact it has had on his career. He then introduces five of his books, because the jury works from a selection of five books submitted for each nominee. Together, they talk about how winning this award has led to increased international attention through exhibitions, collaborative book creations, and jury work.
WATCH ASYNCHRONOUS WEBINAR HERE
---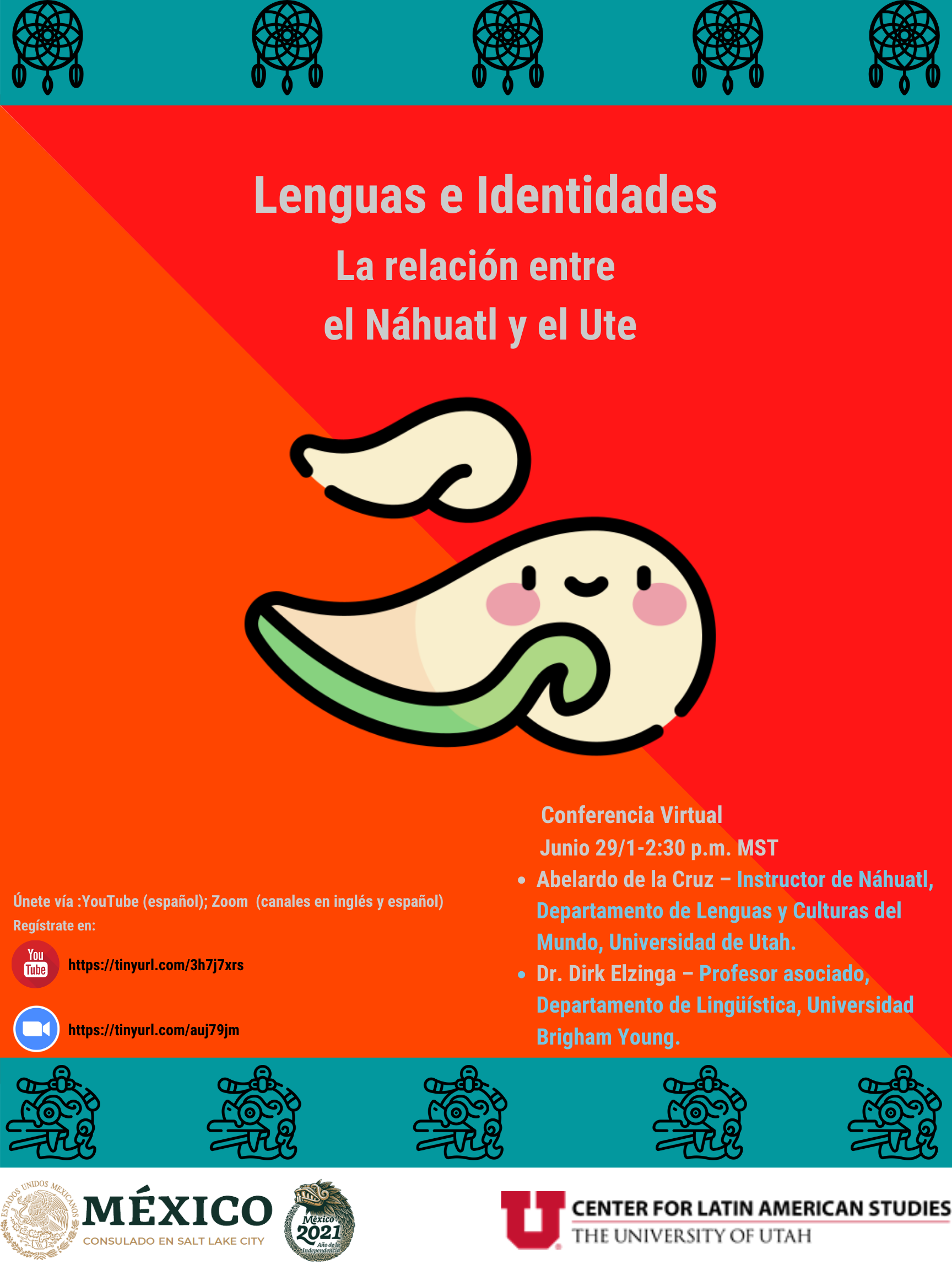 Linguistic Connections of the Americas - Nahuatl and Ute
In partnership with the Consulate of Mexico in Salt Lake City, join us for a virtual discussion with experts as they discuss two indigenous language groups, Ute and Nahuatl. Ute and Nahuatl occupy opposite ends of the Uto-Aztecan language family -- not only geographically but also linguistically. This presentation will highlight some of the similarities and differences between the two languages and cultures and explain why linguists are nevertheless convinced that they belong together.
Speakers:
Abelardo de la Cruz,

Nahuatl instructor, Department of World Languages and Cultures at the University of Utah where he teaches for the Salt Lake Community College, the University of California, Berkeley, and the University of California Merced and Associate Instructor at the Instituto de Docencia e Investigación Etnológica de Zacatecas, (IDIEZ AC)

Dirk Elzinga Ph.D, Associate Professor in the Linguistics Department at Brigham Young University in Provo, Utah