2019 Indigenous Languages Celebration
The University of Utah's Center for Latin American Studies (CLAS) and the Asia Center are honored to share the impact of the 2019 Indigenous Language Celebration held November 11th-16th.
As Title VI National Resource Centers both the Asia Center and CLAS serve as hubs for Asia and Latin American-related activities at the University of Utah and the region. In response to the United Nations declaration making 2019 the International Year of Indigenous Languages, the centers partnered with local institutes of higher education and community groups to coordinate a series of celebratory and informative events at Salt Lake Community College, the University of Utah, Brigham Young University, and the Salt Lake City Public Library.
More than 400 people participated in a total of 13 total events. In the culminating celebration, students studying indigenous languages as well as first-language speakers and community members all came together to honor stories, share a meal, and reflect on their experiences with indigenous languages. Languages present at the event included: Kichwa, Euskera, Ute, Diné, Nahuatl, Samoan, K'iche', Kaqchikel, Mapundungun, Tseltal, and Tsotsil. The following highlighted storytellers shared stories, music, and dance:
Ute language- Aldean Ketchum, Ute Tribe, Weenuch Band
K'iche' language- Antonio Guachiac and Angela Guachiac Tepaz
Samoan Language- Malialole Group
Globally, there are approximately 7,000 indigenous languages spoken in 90 countries, representing 5,000 indigenous cultures, and roughly 2,600 are in danger.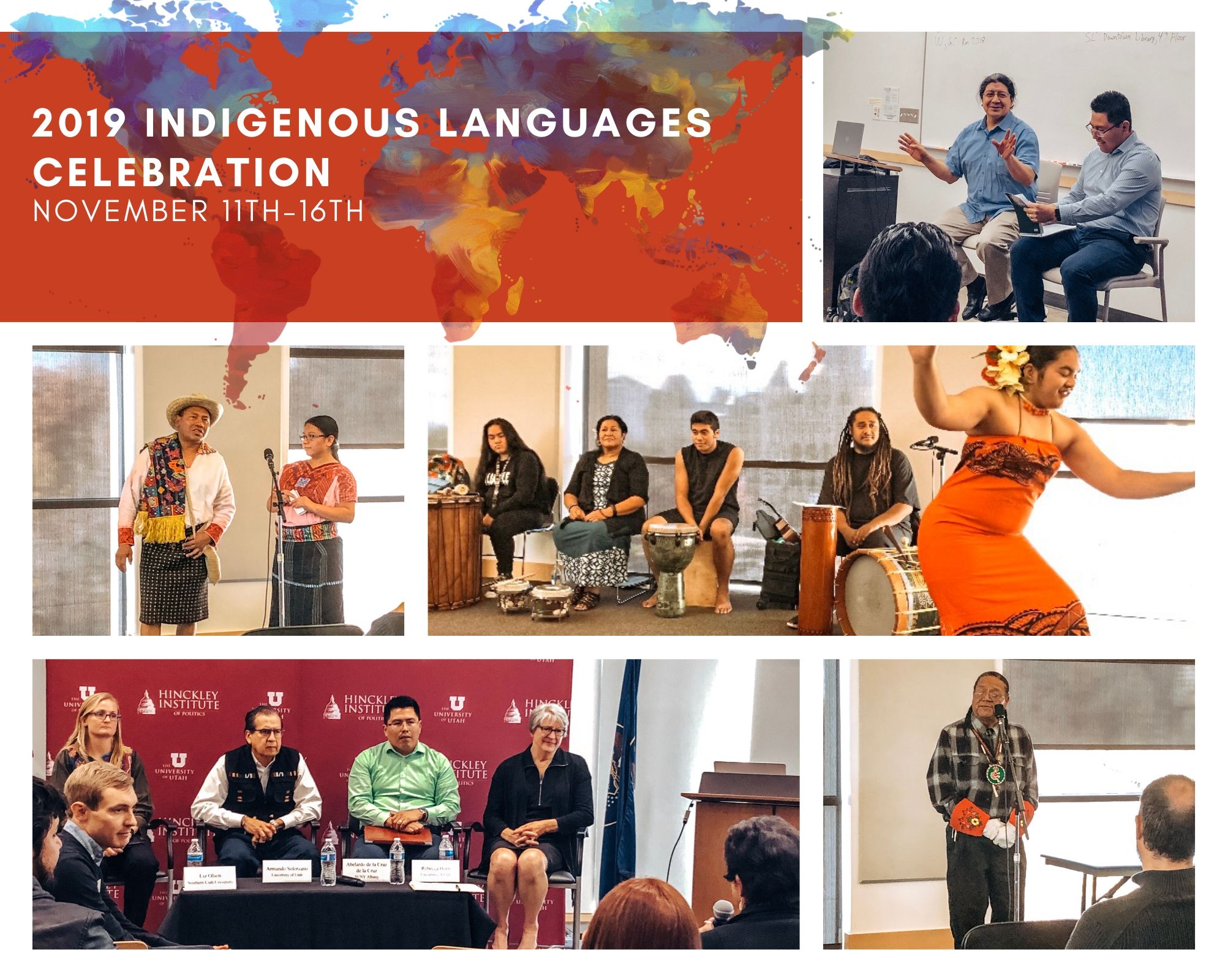 ---
2019 INDIGENOUS LANGUAGES CELEBRATION

MONDAY, NOVEMBER 11th
4:00 PM - Introductory Samoan Lesson at UU, GC Rm. 4700
6:00-8:30 PM - Museum of Peoples and Cultures Family Night at BYU-
Polynesian and Micronesian Languages, 2201 N Canyon Rd, Provo
TUESDAY, NOVEMBER 12th
9:00 AM - Introductory Kichwa Lesson at UU, LNCO Rm. 1950
4:00 PM - Nahuatl/Kichwa Introductory Lessons at SLCC Taylorsville, AAB
Rm.324
5:30 PM - Latin America Presentations at SLCC Taylorsville, AAB Rm. 324
5:00 PM - Introductory Navajo Lesson at BYU, JKB Rm. 1127
5:30 PM - Introductory Hmong Lesson at BYU, JKB Rm. 1121
WEDNESDAY, NOVEMBER 13th
1:30 PM - Homenaje a Miguel León-Portilla: Nahua Studies Past and Present
at UU, GC Rm. 2018
THURSDAY, NOVEMBER 14th
9:00-11:30 AM - Language Fair (Nahuatl, Samoan, Navajo, K'iche') at SLCC
Taylorsville, AAB Commons Area
2:00 PM - Introductory Nahuatl Lesson at UU, CTIHB Rm. 211
5:00 PM - Introductory Navajo Lesson at UU, Union Rm. 319
6:00 PM - Introductory K'iche' Lesson at BYU, HRCB Rm. 123
SATURDAY, NOVEMBER 16th, MAIN EVENT
11:00 AM - Storytelling Event presented in Ute, K'iche', and Samoan at the SL
Public Library- Downtown, 4th Floor Conference Room,
210 E 400 S, SLC
---
Thank you
This was truly a collective and collaborative endeavor, and we want to express our deep gratitude to all that participated, the amazing planning committee, and generous co-sponsors: