Bradley Parker Awarded NEH Grant
Associate professor of History, Bradley Parker, has been awarded a $200,000 National Endowment for the Humanities (NEH) grant to study Inca and Wari Imperialism in Peru. Parker will explore archaeological sites in Ayacucho, Peru, that were active during the rise and fall of both the Wari and Inca Empires.
Data emerging from Parker's work in Ayacucho supports a very different vision of the notion of empire than scholars have traditionally believed. Instead of seeing ancient empires as complex states that asserted control over large areas, Parker's innovative research asserts that "empires" were made up of a network of communication and transportation corridors that connected only very small, dispersed pockets of territory.
This 3-year grant will allow Parker to address the archaeologies of the Inca and Wari empires at various scales. His project includes regional and local archaeological surveys, intensive mapping utilizing the latest drone technology and excavation at a number of sites. The overall goal of Parker's project is to redefine the spatial integrity, internal dynamics and local manifestations of ancient empires.
"As a field archaeologist, I spend a lot of my time dreaming about what I would like to do in the field and a lot more of my time raising money to do so. This grant will allow me to focus on the fieldwork, carry out the operations I need to complete, and bring the emerging data to publication," Parker stated. "It is also instrumental to the University of Utah's goal of internationalization as it will allow me to take students into the field and will help me foster the relationships I am building with a number of Peruvian museums and universities."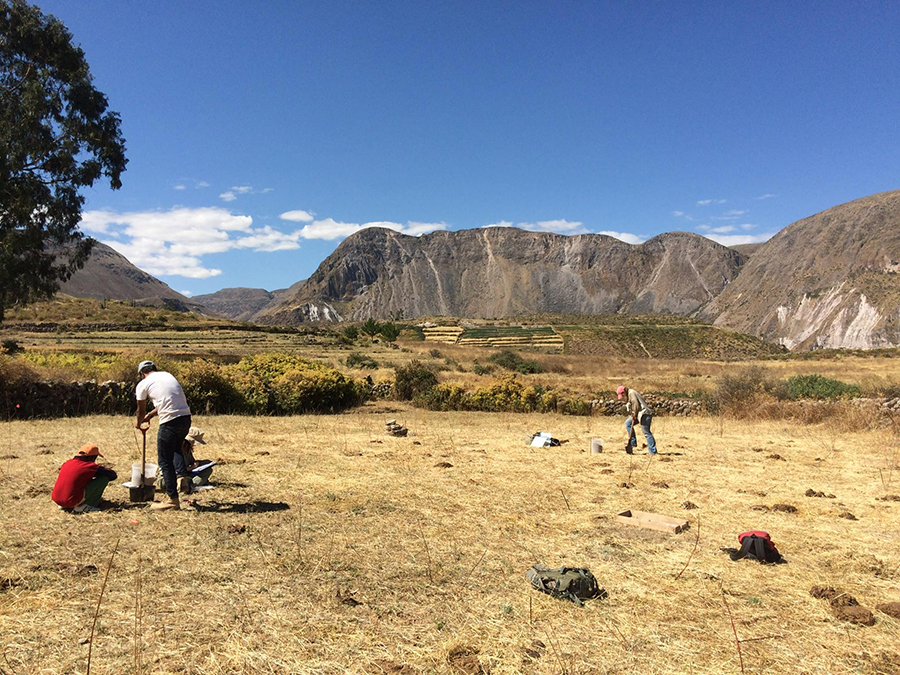 U of U students taking samples from a Wari imperial administrative center called Incawasi. It is located in the Nasca Headwaters at about 10,500 in the Andean Sierra in southern Ayacucho province.