The READ-U Program brings young adult author Pablo Cartaya
"I'm officially resigning from love…" bellowed young adult author Pablo Cartaya, as he delivered the opening monologue to his award-winning title The Epic Fail of Arturo Zamora to a packed house at the Artworks for Kids Auditorium in the College of Education at the University of Utah.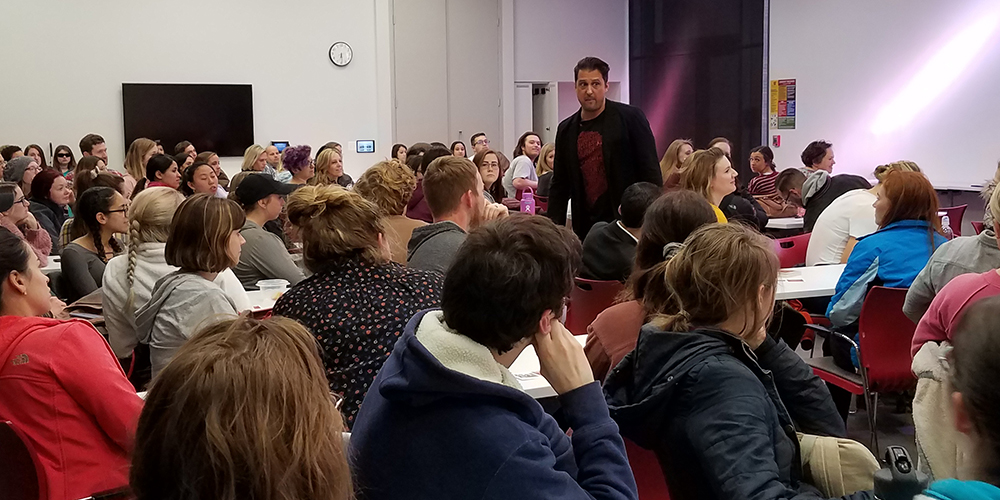 Cartaya took the same approach twice on a rainy April day in Salt Lake City. In the morning, he spoke with 75 fifth grade students visiting the University of Utah campus, and, in the evening, he spoke to over 100 educators and members of the public. Many students attending the day's events are of Latin American heritage and capture Salt Lake City School District's rich racial and ethnic diversity. According the Salt Lake School District 2017/2018 Demographic report, students of color comprise 52% of the elementary population with Latinx students making up 34% of k-6 students. The day's events were made possible by a collaboration between The Asia Center and the Center for Latin American Studies, both Title VI National Resource Centers (NRC), and Drs. Lauren Liang and Karen Tao from the College of Education. Cartaya's visit coincided with the launch of a new children's literature resource shared among the three collaborators: Reading for Empathy, Awareness, and Diversity with U (READ-U).
The READ-U program intends to tackle challenging and varied subjects by establishing a College-based community resource where Wasatch Front families and educators can access quality diverse books in themed sets, curated by faculty with expertise in children's literature, literacy, and socioemotional development. Among their many K-12 outreach initiatives, the University of Utah's NRCs are both supporting teacher pedagogy training related to international children's literature as a means to integrate Asian and Latin American studies into elementary school curricula.
When introducing READ-U, Dr. Karen Tao, Assistant Professor of Educational Psychology, shared a personal story from her childhood about navigating a difficult conversation with her mother regarding war and trauma after she read the book Sadako and the Thousand Paper Cranes, a children's book that tells of the aftermath of the World War II bombing of Hiroshima. Tao shared that READ-U's themed book sets include discussion guides to support educators and families in creating dialogue to address life experiences that are often challenging to talk about. The thematic book sets are categorized to address Grief and Loss, Activists for Social Justice, Positive Identity Formation with regards to Race and Ethnicity, and Living with War and Traumatic Events. The majority of the titles will be global literature with Latin American or Asian settings or themes.
According to Luciano Marzulli, K-16 outreach coordinator for the two NRCs, "The Asia Center and Center for Latin American Studies have collaborated with Dr. Liang on author visits in the past, so the opportunity to sponsor READ-U was a logical next step and it really extends the impact of our outreach across both centers."
In addition to the thematic book sets, an annual author visit will take place to highlight work relevant to Asia and or Latin America. As a Cuban-American, Cartaya's work explores the experiences of Latinx characters living in the United States with ties to Latin America. According to Cartaya, his work centers around three themes: family, community and culture.
This fall the READ-U collaborative will bring author and illustrator Thi Bui to Salt Lake City. Bui's illustrated memoir The Best We Could Do gives a glimpse into one family's journey as they flee a war-torn Vietnam in the 1970s. According to Kim Korinek, Director of the Asia Center, "Bui's visit will bring together local members of the Vietnamese American community, as well as students and scholars from fields ranging from Creative Writing, to Asian Studies and Sociology, to explore the social and familial legacies of twentieth century wars in Southeast Asia and the lessons of refugees' origin stories."
To access the READ-U book sets write to readu@utah.edu
A video recording of Cartaya's talk can be viewed here: https://www.youtube.com/watch?v=0R6MrLoYP9g&feature=youtu.be